A Good Shed Foundation Will Do The Following:
1. The shed foundation should support the weight of the shed and spread it evenly over the ground on which it rests
2. Protect the wood at the base of the shed from moisture coming up from the ground.
3. Include features to stop vegetation growing beneath and around the shed.
A fourth point applies to larger sheds:
4. Stop it moving throughout a range of climatic conditions (some soils change in volume with moisture content, frost and action of tree roots).
A foundation for a shed is different from a house foundation
Due to the size, weight and longevity of house foundations they are designed and built not to move. They are expensive and expected to last a long time. This contrasts with shed foundations where some movement can be tolerated.
Normal house foundations are dug deep so that the foundations are supported on a stable layer of subsoil. This is to avoid the main causes of foundation movement;
Frost heave

Tree roots

Shrinkable soils
A house needs to be still so that connections to water, sewage etc are not broken. A lso with large buildings if one side of the house moves relative to the other the building starts to crack and tear itself apart.
This does not necessarily apply to sheds.
Shed Foundation Options
To achieve the cheapest and simplest form of foundation appropriate for your shed, think about the size and use of the shed, its location within the garden and possibly the sub-soil type.
If you are planning a small shed, read the next couple of paragraphs to point you to the next article to read, however for larger sheds I suggest you read right to the end of this article.
The smallest sheds don't need a foundation at all!

Small sheds and stores can often be situated on an existing patio or hard-standing.

Smaller prefabricated sheds (up to about 8'x6')

can be sited on crushed stone with either treated wood foundations (timber sleepers/railroad ties will do just nicely)or concrete foundation blocks or paving slabs.

Click here for how to build a foundation on timber bearers

Click here to find out how to build a foundation on concrete paving slabs

However before you decide on the traditional have a look at a new type of shed base that can save you time, effort and money. Click here to find out about the plastic shed base.

For sheds bigger than 8'x6'

more substantial shed foundation plans are required. A concrete shed base may be the solution. A concrete slab foundation has the advantage over timber floors if water is to be used on the shed floor or wet equipment to be brought in often.

See here for how to build a concrete shed base.

Alternatively, a shed pier foundation can be used as a more easily constructed, time and money saving option.

Does the site where you want to build your shed slope?

If the ground slopes gently or steeply it can make construction a bit more tricky, but nothing that can't be overcome as this article on building a shed on sloping ground shows.
Are you looking for a way to build on this foundation of shed knowledge?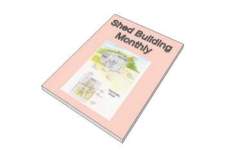 Do you want an easy, simple way to learn more about building sheds?
Keep up with the top answers and tips to shed building questions from our Mini-forum.
Would you like a FREE, downloadable, virtual shed?
If you answered Yes! to any of these questions then pop your contact details in the box below to keep updated with all the latest from this site.
Once a month, on the first of the month.
One final point, I will soon be launching a FREE online shed building course. Filling in the above form will make sure that you don't miss this valuable opportunity!
Your email address will be kept confidential and won't be shared.
Easily unsubscribe at any time. I hate Spam as much as you do!
Floating Shed Foundations?
Small sheds literally move up and down by an inch or two in the course of a year and will not be noticed or matter to anyone. The shed sort of 'bobs up and down on a sea of soil'.
For larger sheds, foundation movement can be a problem for two main reasons:
- The shed is connected to another structure with a different foundation type that is moving in a different way or services are connected in to the building.
- If one end moves and the other doesn't, then the floor will start to slope or the building crack and distort.
The main solution to these problems is to make a foundation sufficiently deep that it is on ground that is not going to change volume.
Frost heave

As the ground freezes in the winter months, the soil expands and lifts whatever is on top of it. The solution to this problem is to make the foundation deep enough so that the underside is below the frost zone. In the UK, the frost zone is about 600mm, for colder countries it can be a lot deeper.

Trees

For some soils, mainly clays, the volume changes with moisture content. Moisture content can change due to a very dry summer, a very wet winter or a tree growing and sucking the moisture out. As moisture is sucked out of the soil it shrinks (after a tree has been cut down the soil regains its moisture content and expands). For these reasons think carefully before locating a larger shed close to rapidly growing tree or one that has been recently cut down.
Finally...if a shed moves, it is nearly always possible (if a bit inconvenient) to re-level it later.
Conclusion
When deciding on your shed foundation type, remember that the larger the shed and the more often it is used, the more substantial the base needs to be.
Your Shed Foundation Questions
What Other Visitors Have Said
Click below to see contributions from other visitors to this page...

---
Related posts:
---