Shed Windows Have A Big Influence On The Style Of Your Shed - Choose Wisely
Shed windows can be one of the most influential design elements of the shed, second only to the style of the roof. Sometimes it seems that when people set out to build their shed they pay a good bit of detail to everything except the windows. It seems that the shed windows get the short end of the stick. This can be very unfortunate indeed when you consider the fact that the windows can influence the look, feel and style of the shed.
The two sheds below are an example of the influence of windows. The two sheds are very similar apart from the windows. The shed on the left would be a good storage shed with the small windows and double doors. Whereas the shed on the right with the larger opening windows to give better control of ventilation and letting in more light would be better as a workshop.
Window Frame Materials
One of the first choices you will have to make concerning your windows will be what sort of material you will need for your window frames. The three main material choices for the window frame construction are: wood, PVC and aluminium. Each of these have their individual characteristics:
Wooden window frames look beautiful when properly treated or painted. If they are not they will become weather damaged in the longer term.

PVC window frames usually come in predetermined colors and do not lose their paint over time as it is the material itself is dyed. The problem with PVC is that over time it can become brittle, fade and is not so environmentally friendly at the end of its life.

Aluminium is long lasting and does not rust easily. Aluminium windows are durable and can come in a variety of long lasting anodized finishes which give good corrosion resistance with little maintenance. Aluminium can be expensive but hey… this your shed you are building here so it could be worth it.
Each of these frame choices have their attractions as well as their drawbacks so it is a choice you will make based on your budget and the amount of upkeep you are willing to do.
Window glass
Your next choice is the type of glass you will need to use. Much of this choice is based on the intended use for your shed. If you will be using it for plain storage you might consider plastic or standard glass window panes.
If you will be growing plants then you might want to consider using a horticultural glass which is thinner and lets more heat pass through. It is fragile though and breaks into sharp shards when broken.
If you want a window that will both look good and be much more energy efficient then a double glazed window using toughened glass is going to be your best option.
Window styles
Hopefully the above has given you a starting point. Now you must decide what style of window you either prefer or need.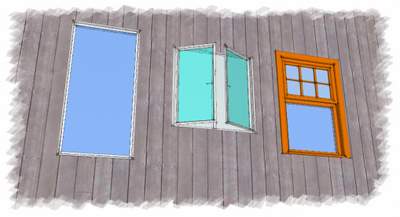 If all you are looking for a source of light, to be able to see out and ventilation is not too much of a concern then a fixed window may be exactly what you need.
For a simple window that looks nice but is more functional than beautiful then you might consider either a side hung or top hung casement.
If you are looking for a beautiful looking window for your garden office shed then you might choose to install double hung sliding sash windows or horizontal sliding sash windows.
Storage shed windows come in a wide range of shapes and styles. These different styles can make a world of difference in the look and overall feel of your shed, reading this article should give you some idea of the window choices that are available
Shed Security Windows
If you need to ensure that your shed can maintain a high level of security then you might consider using security windows. Security windows are horizontal, very narrow, non-opening and usually set very high on the walls of the shed. This style of window lets in light but is above most peoples eye level (so preventing the casual passerby from determining the contents) and is too narrow a slot for anything to be lifted in or out.
If you are not looking for quite this level of security then smaller windows set at the standard height can improve security. Also steel bars set vertically into the frames on the inside of the glass will do the trick without being too intrusive.
Shed Window Shutters
One last thing that you might consider when installing your windows is whether or not you will choose to install shutters and blinds. Shutters can provide security when they are functional due to the fact that they can be closed and locked. They can also provide shade from the sun.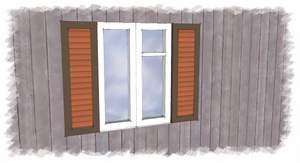 Blinds serve a similar purpose. They protect from the sun and provide security by obscuring the contents of the shed from outside viewing.
Where To Get Shed Windows
Your shed windows can be obtained from several different sources. The two most important however would be new ones from a home supply store and used ones. If you are looking to save a bit of money then the second option would be a good choice. Used windows can be picked up from properties that may be getting refurbished, they can also be bought from businesses that specialize in reclamation of used building materials.
Where to buy shed windows?
Earlier this year I did some research in to whether visitors to this site would be making their own shed windows, using reclaimed ones or buying new and the answer came back that they were most definitely looking for new, ready made windows specifically for a shed.
I have researched this topic and found a great source and a very helpful site owner. John Holling at sheddoorsnmore.com has been in the shed business for over 20 years as a builder, supplier and manager working with shed building companies. If you visit his site he should be able to find you just the item you are looking for.