Metal sheds - Do you know what you are getting?
Can you name three brands of metal sheds?
If we were talking cars you would be able to tell me which were the top end of the range. You would come up with names that would epitomise quality such as Rolls Royce, Mercedes Benz and Cadillac.
If we were looking at the bottom end of the range I am sure that you could name a handful of brands that were known for unreliability and shoddy bodywork.
There isn't quite the same brand awareness attached to sheds for some reason. ;-)
So when you buy a new metal shed you have to be slightly more aware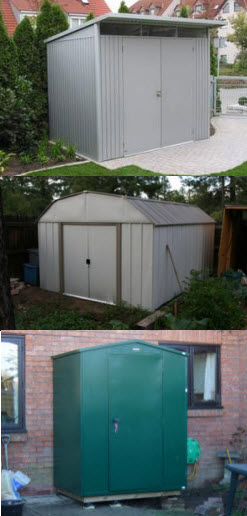 Three styles of metal storage shed
from three very different manufacturers
You have to dig a little deeper to find out which are the features that are important to you. You will also have to do a bit more market research to find out whether the qualities claimed by the manufacturer are matched in reality.
In this page I have pulled together information on a range of metal storage shed manufacturers. Some of the information is gained first hand in that I have built the shed myself. In other cases a friend has built the shed and I have seen it when it is completed and talked with them about how they liked the shed. In yet other cases I have received reviews from visitors to this site who have built the shed and shared their experiences.
Before we go into the reviews themselves lets take a look at the different features of a shed that you will want to know more about so that you can make a fair assessment of whether you have a good storage shed on your hands or a lemon.
Click here to go the shed reviews further down the page
So what are the main features that mark out a quality metal storage shed?
To find out if the shed that you are looking at meets your needs, you need review several features. Rather than go into them all in depth here, I have written a short introduction to give you some pointers to look out for as you make your choice.
Some of the factors that you will want to consider include:
Metal thickness and corrosion resistance
Guarantee
Roof style
Locks and security
Doors
Accessories
Floors and foundations
Colours
Paint
Method of construction
This article on metal storage shed kits goes into a lot more detail on each feature to start to fill out some of these bullet points. Don't forget to come back here to find out how some manufacturers cut corners to cut costs!
Need a cheap metal shed? Find out if one is really suitable for you
As I mentioned at the top of the page awareness of what constitutes a quality shed is not as clearly defined as for cars. As buying a shed is a very occasional practice some manufacturers realise that there are many ways of cutting costs in the shed production process to deliver a cheaper shed to the consumer.
Now if you know what you are buying and are aware of where the corners have been cut then that is fine you might end up with a bargain. However if you don't know a great deal about sheds then you might end up thinking that you have been short changed.
This article discusses some of the methods that some manufacturers use to make their cheapest metal storage sheds.
Not all metal storage sheds are cheap or shoddy, in fact there are some real quality sheds out there if you look around. However before we move on to the brands themselves lets just take a look at the alternatives.
What problems are there with metal sheds?
As we have seen above there are many good points going for shed made out of metal in terms of security, low maintenance and longevity. However, a common problem that is associated with metal storage sheds is that they can have condensation occuring on the underside of the roof during cold and damp weather.
Now lets take a look at a few of the main steel shed brands
There are several manufacturers and they all target people with very differing requirements as to what they want from a shed. For some people it is simply some storage space at the lowest price possible, for others security is particularly important if they are storing valuable items and for yet others design and appearance is top priority.
The reviews below should give you a good idea of what to expect from each of these three very different manufacturers;
Asgard Sheds

If you need the items that you store outside to be secure the Asgard range of sheds offers a great option. I built one of their Flexistores last year and you can read my review of the Asgard Flexistore here. I also produced a step by step report of building an Asgard Shed here.




Biohort Sheds

The Germans produce some great quality cars. The next manufacturer is not German but well Austria is just next door and they speak the same language. The Biohort shed range is a quality option. If you are looking for a quality metal shed that will add a little style to your garden and look good for years to come then the you need to investigate Biohort Sheds.




Arrow Sheds

Arrow sheds are possibly the worlds largest metal shed manufacturer. They cater towards the mass market and their sheds are available in a number of countries. Their main competitive feature tends to be price. If you are looking for a cheap metal shed then an Arrow metal storage shed

will be on your list.

And that is it as far as metal sheds go.......for the moment
If you have any experiences with these sheds that you would like to share please add them to the form below.
We all know what to expect from those famous brands of car.
By sharing your knowledge about your storage shed we can all start to buy metal sheds with confidence. That confidence should mean that we don't get any unexpected surprises a couple of years down the road after buying.
What Other Visitors Have Said
Click below to see contributions from other visitors to this page...