Shed Doors - From Traditional to Advanced
The design of basic shed doors was perfected fairly early on in history. If you have a visit around any castle or ancient historic building you will find examples of ledged and braced doors that do not look much different to ones that are built today.
That is not to say that progress and innovation on the shed door stopped in the Middle Ages! If you want to build a door for your shed today you will find the timber already on hand at the lumber yard and you will find a lot wider range of door hardware online than by asking your local blacksmith to make you a pair of hinges and a latch. ;-)
As we move into this article you will find out how to build a door from scratch, the hardware that is available so that you can make your shed as secure as possible and finally the range of more sophisticated doors, such as the bifold, sliding and roller shutter doors, that are available today.
Let's start at the beginning with the basic door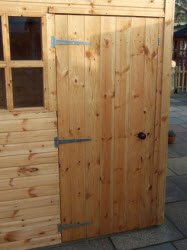 Using a traditional hinged door is a great option if you are building your first shed or a fairly standard type of storage shed. The dimensions of the door will depend on the size of shed that you are building but shed doors do tend to be a bit smaller than your average house door. For example a typical door to a shed might have an opening two feet seven inches wide and six feet high. This can be compared with a typical house door being two feet seven inches wide by six-foot six inches high. That's why you tend to duck when you go into a shed, given a choice I would go for a height of 6'6''.
To really find out the range of shed door constructions that are available to you read this introduction..
As you might have found out there is a wide range of possible solutions. If you want to use a pre-made door that is fine. However purists may want to make the whole of their shed from scratch.
Building your own door is a very practical option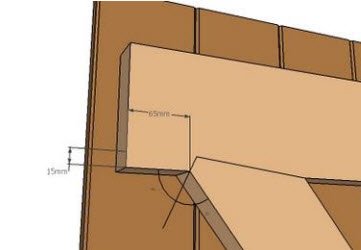 The basic door material is 5x1 timbers with battens and brace on the reverse side. Making a ledged and braced door nowadays is so much easier than in the Middle Ages as the timber comes ready cut and planed to the correct size direct from the lumber mill!
Full instructions for building a shed door from scratch can be found here. They include useful tips on getting the braces sloping in the correct direction and 'clenching' the nails for additional strength.
Once you have built your door, read here for instructions on how to hang a shed door.
Now that you have an idea of the tasks ahead of you it is time to do a bit of research on the hardware that you will need.
The following articles give you an idea of the ironmongery available
Door Hardware - There is a wide variety of shed hardware to choose from. Shed hinges and their fixings are number one. In addition to this, there are a number of options for cabin hooks, door latches and bolts. This article also gives a valuable quick tip to improve the security of the hinges.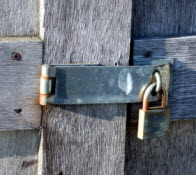 Shed Locks - Garden shed security is a big issue. Garden sheds are relatively insubstantial structures and can house any thing from valuable garden tools to office equipment. Check out this page to find out what is available to ensure the contents of your shed stay secure.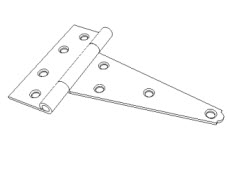 Door Hinges - If you are building your own door the choice of hinges can make quite a difference to the appearance, strength and performance of the door read this article to find out more.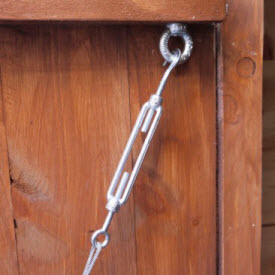 Fixing a sagging shed door - If you already have a door that is sagging there is an easy method to re-align it so that it locks once again. Read on for more details of how this adjustable shed door brace can solve your problem.
I mentioned at the beginning that shed door technology had advanced well beyond the basic timber door. If you have problems with space for accommodating the door swing, large opening sizes, have a requirement for high security or just want to give your shed the 'wow' factor then read on.
There are three more types of door that you might want to consider for your shed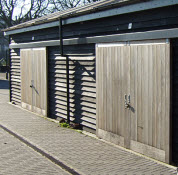 Sliding doors - Using doors is a very efficient use of space in congested areas where space is critical. Sliding doors are also used to secure large openings where if the door was hinged it would have an impractically large radius of swing.
Bifold doors - Are a relatively recent development and are also known as 'sliding-folding doors'. They were originally developed for continental cafes to let in the fresh air during hot weather, increasingly they are used in domestic houses and also sheds and garden offices.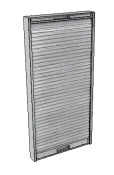 A roller shutter door - Can be made from steel, aluminium or PVC. This type of door is ideal if you need a flush threshold for getting machinery in and out of the shed. The door is stored on a roll at lintel level and so is kept out of the way when the door is open, requiring absolutely no space for the door to swing. Roll up doors have three major components, find out what they are and how they work together.
Shed door technology has moved on since the Middle Ages
Henry the Eighth would definitely recognise the construction of the traditional ledged and braced door but I think that it might take him quite a while to figure out how to open the bifold door in a garden office!
Next Step
I have been asked a lot of questions about shed doors over the years as I have built this website. Have a read of some of the questions and answers below to build on the information already on this page.
Readers Questions and Answers
Click below to see Questions and Answers from other visitors to this page...


---
Related posts:
---