Shed designs - find out what you like (and what you don't!!)
There is nothing like flicking through a wide range of shed designs for helping you to quickly identify the elements of a shed design that you like and those that you don't. The key design elements to watch as you click through these design linking off this page (and there are over 100 if you have the time) are the roof, doors, windows and surface finishes, such as the siding.
How would you like your shed to look?
We are all so different that it is unlikely that you will find exactly what you want in these pages, despite the huge range. You may need to take the roof off of one shed, the windows from another , a slightly larger door from another to get exactly the result that you are looking for. It's a bit like playing with those crazy animal books that my children love. ;-)
The shed designs on this page come from all over the world
We occasionally hold design competitions on this site and the designs are compiled from the entries. The entrants have a wide range of backgrounds but include architects, shed builders, graphic designers and those who just love a great challenge.
I have chosen a few of the most popular designs and linked to them below. I have broken them into some 'random' sub-categories to help guide you in the right direction. Once you have a taster you will want to visit the competition pages themselves to find your own favourite elements/designs. Remember there is a huge selection of micro-architecture here so you may need more than one visit.
Here are a few of the most popular designs - this is just the tip of the iceberg
Visit each of the individual competitions using the links at the bottom of the page to find the full list of every single entry.
To get you started just browse a few of the most popular using the links below.
Contemporary Sheds

A selection of modern and 'sleek' sheds.
Eco-sheds

Sheds that incorporate green features such as rainwater recycling, solar panels and green roofs.
Office sheds

A small sample of the many practical and stylish office sheds
Conceptual sheds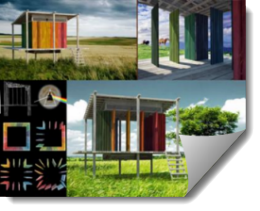 These sheds are conceptual in design but have features that you could be developed into and good looking and practical sheds
Real sheds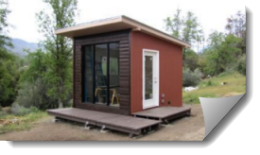 Don't go thinking that all the sheds here are just architects dreams! There are quite a few competition entries that were completed sheds.
Before you go diving into the competition entries in detail
Let me say that starting a shed building project is a great decision and the time from starting to completion may take you several months. To keep you on task (!) I have a monthly newsletter that you can subscribe to (its FREE). Just pop your contact details in the box below and you will get a downloadable shed on your desktop as a bit of fun to keep you going until the next issue is out.
Your email address will be kept confidential and won't be shared.
Easily unsubscribe at any time.
I hate Spam as much as you do!
The links to the various competitions are here:
Don't let the competition title put you off have a look through them all. The concepts are wide ranging and there were so many different answers to the broad design brief.
Once you have looked through all these great sheddesigns you will want to start to find out more about the practicalites of building your new shed. To get an over view from some voices of experience go to the building a shed page for some practical tips and case studies of others who have taken the plunge.