2 Alternative ways to build a shed floor
in this article I talk about two types of shed floor; the type that you would use on a large timber shed and the other is more like a shed base that will form a flat level and stable surface to build a pre-fabricated metal or plastic shed on.
Both types of shed floor are essential to the strength of your shed.
A floor that is not strong enough will start to ripple and squeak. A floor that is not detailed correctly will start to rot and sag. Both of these will make your shed unsatisfactory.
The article divides here!
Click here to find out more about building a shed base for a pre-fabricated shed, read on to find out more about the construction process for a floor to a self built timber shed.
At the end of this article you will also find questions asked by visitors to this site, these questions and the answers to them should be as useful to you as the articles themselves.
Factors you need to consider before you start:
1. Good choice of materials
2. Good shed floor plan
3. Good workmanship
Get the choice of materials and the design of the shed floor plan right and you're over halfway there!
1. Materials
The material options for the deck include;
Timber floor boards are normally tongue and grooved. The tongue and groove is used in flooring to make adjoining boards work together and prevent adjacent boards deflecting relative to one another, forming a small step in the floor surface.ep
If you are using sheet materials such as plywood or OSB, more than likely the boards will be square edged. A tip to help the floor work really well here is to support the edges where two boards meet, as in the picture below.
Also remember when using plywood or OSB that they have a strong and weak direction. With plywood make sure that the face grain is at right angles to the floor joists. With OSB, sheets are normally 1.2 x 2.4m, the strong direction is the long direction.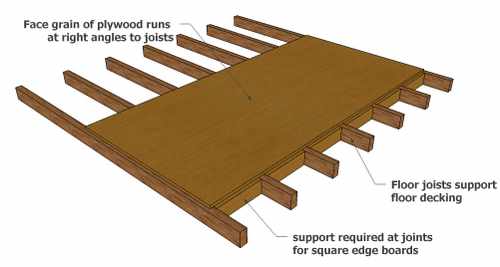 For fixing the floorboards to the joists beneath use a nail which has a good pull-out resistance. I recommend an annular/improved ring Shank nail (see photograph). The length of the nail should be about 2.5 times the thickness of the floor board.
The floor joists supporting the decking should all be preservative treated and of a size that will transmit the floor loads to the foundations.
2. Shed floor plan
If you are building a floor for a shed it's surprising how strong you need to make it. For a domestic house the British Standard for floor loadings (BS6399) recommends 150kg/metre square, for a work shop or office floor the floor loading goes up to 250kg/metre square. An average person weighs between 70 and 80 kg, so that gives you an idea of what the floor has to support. When designing the floor arrangement remember water is the enemy of shed floors. Anything you can do during planning to stop water getting in to the shed floor from the ground below or from rain coming down from above the better.
Tips to keep the shed floor dry:
A polythene vapour barrier weighted down with stone or concrete beneath the shed will provide a barrier to moisture and also prevent plant growth beneath the shed.

Good ventilation beneath the shed will help any damp air disperse and keep the timbers dry. What is good ventilation? Most often for sheds the underside can be left completely open to the atmosphere so damp air cannot accumulate. For house floors it is recommended that there is a minimum of 150 mm between the underside of floor joists and the ground, also that air can flow from one side of the shed to the other, letting humid air escape. For timber frame houses there is a recommendation that that a minimum of 1500 square mm per linear m of floor ventilation is provided.

Another tip to protect the floor joists is to put some Damp Proof Membrane, beneath the supports of the floor joists. This provides yet another barrier to moisture wicking its way up from the ground into the floor.

Stop moisture getting in from above by using large eaves and gutters and making the walls drain down on to the ground.
Garden tool sheds or storage sheds do not need an insulated floor, however insulation is essential if you are going to make your structure a garden office or hobby room. Insulation is easily installed between the floor joists. To make the as draught free as possible pay particular attention around the floor edges as this is often the main source of air leaks.
3. Workmanship.
Building a storage shed floor? These tips will get the project off to a good start:
Work off a square and level foundation. This the most important of all by starting of right the job will go smoothly. If the starting point is badly set up you will be forever making time-consuming adjustments to compensate.

Use material modules to prevent excessive cutting. Plywood and OSB sheet flooring comes in 1.2x2.4m sheets- making the floor a multiple of this size will minimize the number of cuts you need to make. Don't worry if you can't follow this one though, best to get a shed the size you want than to save on a tiny bit of labour.

Use a nail punch to get the head of the nail below floor level, so you don't make a hole in your welly when you come in to get the garden fork!
I hope that this description helped you with your construction project. Below are a few questions that other visitors have asked on the subject of shed floors in our mini-forum Potters Shed. To find out the answers click on the titles to find out more.
---
Related posts:
---
Readers Questions and Answers
Click below to see Questions and Answers from other visitors to this page...