How the right shed hardware can make your shed stronger, more secure, weathertight and all round better
I use a lot of shed hardware in the work I do repairing sheds. I work for 50 to 100 clients each year repairing and upgrading garden buildings of all types.
I hammer in a lot of nails, tighten a lot of screws and install a lot of other types of metalwork.
I get a pretty good idea of what shed hardware works and what doesn't.
A lot of hardware is commonly available at local or large online hardware stores. But some problems are quite specific to shed construction and the parts needed can be hard to find.
So I have put together a range of shed-specific products that will help you to keep your shed secure and weathertight.
In the spirit of traditional hardware stores, I have described how each of the products work, what the components are and tips on how to install them.
All you need to do is add them to the cart and when you have got enough, checkout.
£12.50 (UK Only)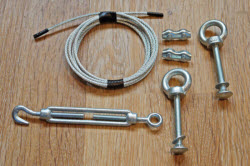 The Eyebolt shed door brace kit will stop your shed door sagging


£17.50

£17.50


If you have any items of shed hardware that are proving difficult to source let me know. I may already be able to find them for you or suggest an alternative.