What happened to the manufacturer of Royal Sheds and how can I repair/replace parts for my discontinued shed?
Royal Storage Sheds were a popular brand of shed in Canada and North America for many years. In the mid 2000's the business was sold and manufacturing of the Outdoor Products, such as sheds was stopped.
For a while the new owners held a stock of replacement parts, but these were gradually sold and I now understand that they have run out. After all there is only so long that you can support discontinued product lines.
It seems that now the Royal Sheds brand no longer exists as a live product range.
What were the main models in the Royal Range of Sheds?

The main product lines comprised the Premier Series, Winchester, Woodbridge, Windsor and Esquire model sheds. All were of a similar type of construction and varied mainly in size and the type of accessories.
Accessories for the sheds included various utility items such as pre-made floors, ramps and internal storage racks. As well as ventilation kits to reduce damp problems and a variety of skylights, window panels and shutters.
Why did people like the sheds so much?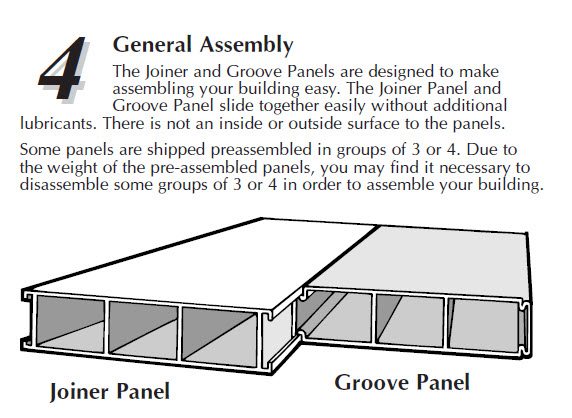 The panels simply clipped together
The main selling points of this shed were. They were easy to put together,they were constructed from double walled PVC extrusions. Once the shed base had been constructed the shed panels clipped together with the aid of a gentle tap of a mallet.
The various trims and components were fixed to the shed with simple self-tapping screws.
There was no measuring or cutting of components required once the base had been accurately constructed.
The base fitted on to either a premade plastic base kit, a concrete pad or timber sub-floor. It was essential to construct the floor of treated timber as you should for any shed floor.
A number of readers of this site originally built a sub-floor of un-treated timber and found that it rotted out fairly quickly over the years.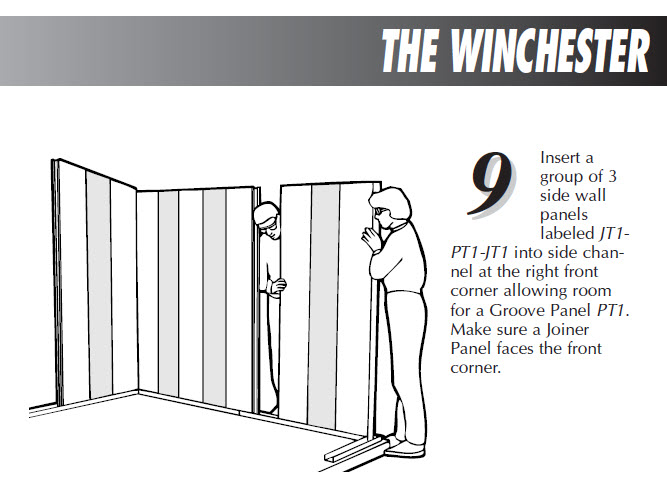 Part of the construction sequence
Internally the roof panels were supported on a central ridge beam and the side walls. This meant that there was very little inside the shed to obstruct the space. And the roof was strong enough to resist all but the most extreme snow loads.
Once built the sheds lasted well as the through colour PVC panels did not discolour or require painting or maintenance.
The sheds were great in that they came with a 10 year warranty. Which was rarely needed for the superstructure, but I understand a number of customers did request replacement doors.
The sheds sound perfect
Were Royal sheds the ideal extra-durable long lasting shed?
Well actually the shed design did have a couple of weak points:
Although the main structure of the shed was constructed from PVC the doors were of timber construction. It was left to the customer to prime and paint these.
The reasoning behind this was presumably to enable customers to make the shed door match the colour scheme of their house or garden. However, even if this was done in accordance with the instructions, inevitably after a number of years the timber doors would rot, whilst the rest of the shed remained in excellent condition.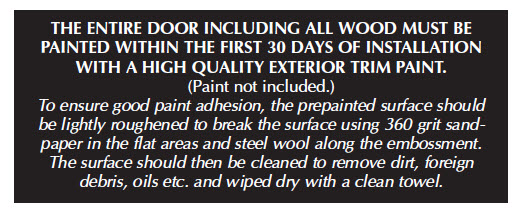 The second weak point was that as the twin wall panels are of relatively thin construction they would get damaged in more extreme hail storms. Whilst the sheds were still being manufactured, new panels could simply be bought and replaced.
However now that the sheds are no longer readily available the simplest option is to remove the damaged panel and flip it over. This makes the shed weather proof again but does leave unsightly holes in the underside of the shed roof.
Were there any other specific problems that occurred with Royal Sheds?
Not really, only those that would occur for any other product that is exposed to the environment and needs occasional replacement parts. In this case an example would be tree branches falling on the shed and damaging the corner posts/side panels or if the shed is moved and parts become mislaid in the moving process.
So how can I get these parts for my Royal Shed now that they are no longer made?
The best way to obtain parts to repair/replace these sheds seems to be on the second hand market.
Over the years a number of readers have asked for (and found) parts using the commenting system at the bottom of this page.
Also a number of readers whose sheds became damaged or surplus to requirements listed their shed parts for sale too.
In addition it is probably worth keeping an eye on Ebay, Craigslist or Kijiji for pre-loved Royal Sheds
Finally there is a ray of hope for the future
The original owner of Royal Sheds formed a company called Vision Products. They produce a range of sheds that are very similar in form to the old Royal Sheds. The sheds are made of a similar PVC extrusion, which I presume for copyright reasons is not compatible with the Royal sheds panel.
A promising point to note is that the doors are not of wood. They are now made from a series of the PVC extrusions and contained in an Aluminium frame.
So it looks like once again that there is a quality, easy assemble and durable PVC shed on the market. I look forward to hearing from anyone who has a review of their experiences.
---
Royal Sheds - Parts for sale and wanted
If you need parts for your Royal Shed
State the parts that you need in the comments section below of the page entitled Parts required. Make sure to add a description and part number so visitors can clearly see if they have some thing to help you. If you have a sketch or picture of the part that is broken or the part you need upload that.
If you have parts or a whole shed to sell
Take a picture of your shed, or parts of the shed that are surplus to requirements, and make an accurate description of what you have available. This is important so that visitors can see what parts you have and what condition they are in (you can include up to 4 pictures)
Create a new page for your Sale or Wanted listing using the form below and give an indication of what price you would like for the items. When you put in your contact details put in the format 'your name (at) website.com' to stop any spam bots picking it up.
Describe the Model, Age and Condition of your Shed.
Here are some points you need to include in your review. (I give each listing a quick look over before posting. Please include sufficient detail 'skinny'/incomplete descriptions will not be accepted or submissions without sufficiently detailed images)

i) Where you bought your shed and the approximate cost.

ii) Your approximate location

iii) An accurate description of the condition of your shed. Include a description of any damage or parts that are missing.

iv) How much you would like for your shed. And whether it is to be sold as a whole or offers invited for parts. Does the price include for delivery or is collection by the buyer preferred?

Other Royal Storage Sheds
Click below to see contributions from other visitors to this page...

FOR SALE - Royal Winchester Shed - Model So10






This shed is 10x8 feet x 6 feet high at the roof edge. The peak adds about another 1.5 - 2 feet at the peak. It is probably about 12-14 years old. …