How to take the Hidden Pitfalls out of Building a Shed
Building a shed from scratch is an ambitious project... not so big that you need to call in the professionals.... but big enough that lack of planning can quickly result in many unforeseen problems. These problems will add time, expense and cause quality to suffer on what you thought was going to be a fairly straight forward project.
The good news is that that there is no need to reach the point of tearing your hair out with frustration. You can do some structured planning and research beforehand which will help you to reap big dividends and avoid the hidden pitfalls.
It's these pitfalls where you lose time, money and the quality of your building suffers.
To keep your project on track this site has ideas, opinions and advice on most aspects of garden buildings to help you move seamlessly from raw beginner to the happy owner of a great project that fulfils all your initial thoughts and was smoothly built on time and to budget. (and it will impress the heck out of your neighbours!)
To help your build go smoothly (and impress your neighbours)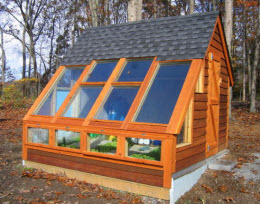 Wouldn't you love to build this?
This site is structured to take you from the initial spark of an idea to being the happy owner of a well installed and easily maintained garden building. Find out how you can plan ahead to head off problems that you had not previously even considered.
If you are visiting this site for the first time take a minute to see where you are in the out-building project process as this will help you to find the section of the site that will help you most.
The start of your project begins with enthusiasm and a blank canvas

Have fun as you develop what you want. Take a look at our shed designs page where you will find over 100 designs from the practical to the way out that readers have submitted during our design competitions.
Learn from the mistakes that other 'backyard builders' have made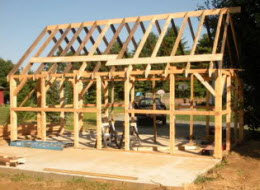 Once you have a design in mind find out a bit about the hidden pitfalls that others have come across. The building a shed page has building tips, but more importantly case studies. Learning from these case studies will help you to avoid some of the mistakes that these guys encountered.
The Gold is in the detail - find out how the individual components fit together.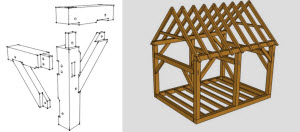 The main components of a garden building are the roof, walls, floor and foundation. There are articles discussing all the main points of construction of these elements. The easiest way to find any of these items is to have a quick look at the navigation bar on the left hand side of the page. Alternatively start your shed design here with this overview article.
What if you decide that all this looks like too much hard work?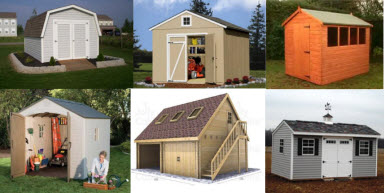 If you decide not build your own garden building from scratch an easier route is to choose to build a garden building manufactured by one of the many specialist manufacturers and builders. Take a look at the many shed reviews that we have on the site to find out which model will solve your problem.
John - I have a question that you haven't covered....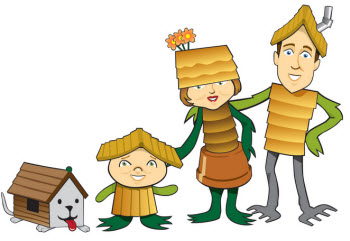 Finally... if you have been through all the categories above and still haven't found the answer to your question it means that I have failed in my mission to provide a comprehensive out-building resource....Help me to overcome this shortfall and come along to Potters shed to ask your question and find an answer.


To help you get your project started I have prepared a FREE downloadable shed that can be on your desktop within minutes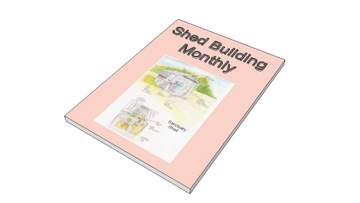 Do you want an easy, simple way to learn more about backyard building?

Keep up with the top questions, answers and tips from our Mini-forum.

Would you like a FREE, downloadable, virtual shed?
If you answered Yes! to any of these questions then pop your contact details in the box below to keep updated with all the latest from this site.
Your email address will be kept confidential and won't be shared.
Easily unsubscribe at any time.
I hate Spam as much as you do!
Building a firewood storage shed - read these tips first.
How to build or choose a garden building that will both meet your needs and look beautiful
Download a free shed at secrets of shed building
Do you need to know 'How to build a shed' ? Or have other shed building questions - ask them here.
Shed siding - Wood, metal or vinyl - which is right for you?
Discussion of what to look for when deciding on your garden shed
Help with choosing shed accessories to enable you to get the most out of your shed
See a range of shed designs to help you decide what shed style is best for you
Tips on how to choose garden shed plans appropriate to your garden and skill level.
The Rubbermaid vertical storage shed is the perfect size for small spaces when extra storage is needed
A few shed links to help fill in the gaps
The Rubbermaid Outdoor Storage Shed - Its strengths, weaknesses, where and when to use them
Learn how to select durable Shed Building Materials for all parts of your shed
A guide to the many aspects of shed maintenance and fixing problems before they become too serious
Source of useful shed hardware that can be difficult to find elswhere