Shed Building Materials
You know, it is possible to build a great looking shed using a great design and for it to fall apart well before its design life. The same applies even more so to shop-bought sheds that look great in a brochure but fail to live up to their potential. How is this?
The answer lies in the specification of the shed building materials that are used. If your timber has many knots, shakes and splits and isn't treated for outdoor use. It will fail sooner than treated, stress graded treated timber.
If the roof deck of a shed is made from sheet material that is too thin and not made using waterproof glue then it will bend as soon as any load is applied and sag even further if it gets wet.
Selecting durable and long lasting shed building materials is easier than you think
To help you navigate through what often sounds like a lot of jargon. I will go through each of the categories of material in turn, including fixings and hardware. If you have any questions at the end please don't hesitate to ask. The only daft question is the one that you don't ask!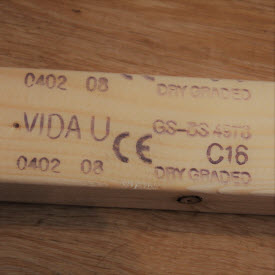 Even companies that have full control of their supply chain have sections on their websites giving what seem to be excuses for performance. The reason for this is that timber is a natural material and is subject to a few key variables. Some under the manufacturers control and some not.
As a small shed builder having a few key pieces of knowledge can help you to make sure that you get the right quality and grade of timber that you need.
This article is coming shortly so sign up for Our Monthly Newsletter - Shed Building Monthly to get the article when it comes out.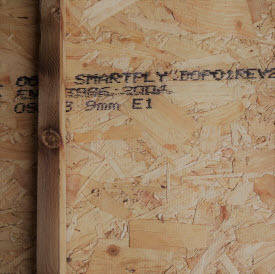 The principal sheet goods for use in a shed are plywood and OSB. Other materials such as chipboard, MDF and gypsum may also be used but are principally used for internal finishing rather the structure of the shed.
OSB is probably one of the least understood materials but is increasingly replacing plywood for structural purposes.
Selecting the correct OSB grade is the key to durability.
Also read these 8 key OSB fixing tips to make sure that you get the best out of your OSB.

Many people will build their sheds with timber on a base of crushed rock or off an existing patio. Using concrete is yet another alternative for foundations. This article gives the low down on building a concrete shed base.
Getting the right concrete mix for your shed is fairly straight forward. If it is just for foundations a high-strength mix is not required. This page gives you the very basic concrete mix for a shed base.

The hardware you need for a shed should be tough and weather resistant. You might also want it to look good. Hardware includes the hinges, locks, nuts, bolts, screws, nails and fixings that you might once have got with a bit of help from the local ironmonger. Nowadays it is all online and can be a bit of a lottery.
Find out here about the different types of hinges you might use on a shed.
Keeping your shed secure is important to keep your stuff safe. However there is a school of thought that locks aren't required on sheds. Read here to find out about different types of shed door locks and locking strategies.
Holding all of the components together is another area where a bit of knowledge can go a long way. Should you be using nails or screws? What is the difference between a coach-bolt and a coach screw?
This article is coming shortly so sign up for Our Monthly Newsletter - Shed Building Monthly to get the article when it comes out.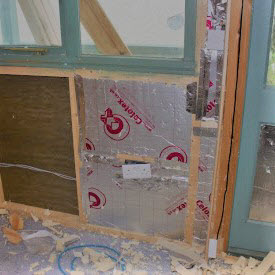 The basic traditional garden shed has no insulation and has as many airleaks as a sieve. However, today the use of many outbuildings is beyond the storage of garden tools.
Garden offices, artist studios, pub sheds all demand a warm draught free building to create user comfort. Choosing the right areas to insulate a shed is a good beginning.
Then read here to find out more about how the insulating values of types of insulation material are measured. Which ones work and which ones don't.
Finally have a look at this case study about one garden office worker and the savings on heating bills he expects from insulating his shed

Your shed roof is a key element of your shed. It keeps the water out and the structure of your shed dry. It also is a big part of the look of your shed. It is such a big part of your shed that I devoted a whole section to it.
Follow here to find out more on Shed Roofing Materials.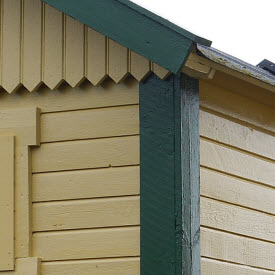 Shed siding is a non-structural element of your shed. But it also has a key part in keeping water out. It also forms a large part of the total cost of your shed. Once again I have devoted a whole section of the site to this important element.
Read here to find out more about Shed Siding
Using Left-over Building Materials
When you have completed your shed you will most likely have a small stock of left over building materials. Various sizes of timber, a few nails and bolts, some roofing material etc.
Don't throw these away! Keep them, they will come in handy for various projects around the shed, home and garden.
As well as saving you money these small projects will improve the look and organisation of your home. ;-)
The first in this series is a Wellington Boot Rack. This simple project should reduce your pile of spare materials as well as keeping your house cleaner and better organised!
---
Help with specific shed elements:
---