Duramax Sheds - The Good, The Bad And The Ugly
When it comes to Duramax sheds there's plenty of good, some bad and really not much ugly. That's what I found when I recently built one of these outdoor storage sheds to find out more about how this range of shed kits, built from a combination of plastic and steel is put together.
There were a few interesting quirks that you will need to know if you're going to buy one of these outdoor storage sheds for yourself. Duramax vinyl sheds comprise a series of weather resistant plastic panels that are aligned and supported by pressed metal channels that work together to give the shed strength.
But I'm getting ahead of myself here. Let's start off with the things that are good about Duramax sheds.
The Duramax products range of sheds starts with the smallest Yardmate pent sheds at 4'x8', which is designed to lean against a wall down the side of the house. Through the mid-range Duramate models at 8'x5'4" to 8'x8', which have an apex roof design. The largest is the Duramax Woodbridge range with a span of 10.5' and available in modular lengths from 5' up to 13'.
Duramax sheds the good points
Duramax storage shed features that I liked were;

The completed Duramax Shed
When putting it together it was accurately made

There were no windows (helps with security) and the skylight let in plenty of light

Wide double doors

It really does look low maintenance
1.0 Starting with the accuracy of construction
You need to ensure that the shed base that you build the shed on is square and level. For the purposes of testing the shed build I made a temporary foundation out of timber to provide a level surface to build off. If you are up for doing something like that then it is quite straight forward. But if you want a 'construction ready' solution then Duramax make a foundation kit that will provide you with a foundation and floor.
By doing this you'll have no trouble with any of the holes lining up. The holes that need to align are all pre-punched in to the thin gauge pressed metal frame. Typically you will be using a screw driver to screw through one frame member into a second member using a 'self-tapping' screw. The self tapping screw cuts its thread in the smaller diameter hole in the second member to securely join the two together.

The metal roof beams before installation
The only problem I had with these holes not lining up was when I got to the roof and then I found that it was my fault. I did a quick check that the structure was square by measuring the diagonal across the internal dimensions and found that they were different. I adjusted the building so that it was square again and lo and behold the holes came into alignment!
One point to the Duramax shed!
2.0 The shed does not have windows, this helps with security
By not being able to peer inside it means that potential thieves cannot quickly scope out what is inside. To overcome the problem of the shed being dark inside and the user not being able to see what they have stored a see through roof light is used. The roof ridge has two capping pieces, one is of the same vinyl material that is used for the sides of the shed the other is clear plastic. And even with the door closed on a reasonably dark day there was plenty of light to see what was going on. A very useful feature.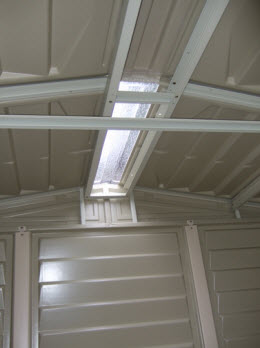 View inside the roof with the roof panels and
plastic skylight in position
3.0 Double doors
Easy access is essential for a garden shed. The double doors do give easy access to the shed interior for large garden equipment. And double doors create a larger opening than a single wide door.
4.0 Are Duramax sheds really low maintenance?
There really is very little to go wrong. The structure of the shed is made out of steel. There is a ring of steel at the base at mid height to tie the panels together and again at eaves level. The interior beams that support the roof are also made out of steel. The support structure is then clad in single skin vinyl panels that are slotted in between the steel skeleton.
The panels are a neutral ivory color and so are not going to fade in a significant way that a brighter colour might. So the weather durable vinyl should never need painting.
There is some exposed steel but that has a coating of paint and galvanising so that should last a while too. There could be a little rust around some of the screw holes but overall it looked pretty durable to me.
So those are the good points. Was the shed perfect? Of course not, lets move on to the points that were not so good.
Moving on to the bad points
There were several ways that I thought the design of this vinyl storage shed could be improved. The three most significant were;
Sharp edges on the steel frame
A generally low level of security
Duramax storage sheds aren't heavy duty
Too 'value engineered'
1.0 The ends of the steel frame members were razor sharp
The ends of the steel frame did have tape around them to protect them when they were first unwrapped. However I did not notice quite how sharp these had been left after being cut in the factory. It only took being cut once and quite a flow of blood from my finger to make sure that I was extra careful in this area. I would recommend you wear some light protective gloves when putting this shed together.
2.0 The doors were the weak point security wise
Overall I thought that the security of the shed was quite good compared with a timber shed. Breaking into a timber shed can be achieved through breaking in through the walls if necessary and it would take a similar level of effort to do the same with this shed.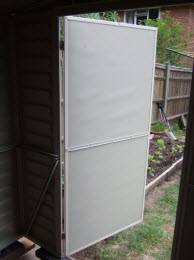 The doors, especially the hinges were very lightweight
However, why break through the walls when the doors are an open goal? Firstly, they are on simple lift-on lift-off hinges made of light weight metal. Secondly, the doors are locked by padlocking together the door handles that are made out of plastic! Total time to open for a thief = 10 seconds. I would not recommend this shed in a public area or one where there is a high level of theft from sheds. It would however be suitable for enclosed gardens in residential areas with low levels of crime.
3.0 Although not weak this storage shed is not 'robust'
It is well made and produced but it doesn't strike me as resilient. If it got whacked by a cricket ball it would crack the plastic panels (and how would you repair them?). This is in contrast to wood sheds which seem to resist all sorts of impact with equanimity.

The light weight panels meant that it was easy for my 5 year old daughter to help me!
The internal metal frame is accurately made, but it doesn't strike me as a solid metal structure. It's main purpose is to give some extra strength to the plastic panels, which it does, but the thickness of the metal does suggest that it would be open to damage when storing heavier implements in the shed.
4.0 The final point was that someone had been through the shed cutting costs to the bone
I liked the overall concept of this storage building and has a great look. I felt as though the quality of the original design had been let down by the cost department saving a few pennies here and there.
I felt that if the steel frame had been of slightly heavier gauge steel and with a more robust paint and galvanising system then it would have given even more confidence as to the future longevity of the shed.
I also felt that the height of the shed was driven by something other than the user. I could stand up straight (I am 6'2") but if I tried to move I banged my head on the roof framing members and had to stoop to go into the door.
Lastly, there was the ridiculously cheap hinges and door handles. I reckon if there was an additional $5-10 put into the manufacture of this shed it would go from good to outstanding.
To summarise, the Duramax shed has many good points
Duramax sheds are made to tight tolerances and a good level of accuracy. I reckon that the plastic panels will be low maintenance and quite durable in use, I also liked the translucent roof light panel. An apex vinyl shed such as the duramax with their decay resistant wall and low maintenance will give you extra space to store your garden equipment at a low cost.
On the downside you will need to pay attention to those sharp ends on the steel parts. Also if you are looking for a storage shed that provides a good level of security this may not be for you.
This isn't a heavy duty shed. I would put it in the lightweight, weather-proof storage category. It would be good for the storage of garden tools.
As I said at the beginning lots of good some bad and no really ugly. If you need some lightweight, inexpensive storage for your outdoor tools to keep the weather off then one of the Duramax sheds could be the ideal solution for you.
If the Duramax sheds are a bit light weight for you, you may want to look into the metal sheds from Asgard or Biohort. The metal they use has thicker steel walls than most metal sheds and provides very secure outdoor storage albeit at a higher level of cost.
Related links