Building A Shed Door That Will Last
Building a shed door is straightforward when you follow the steps outlined below. The two simplest shed door designs are the ledged door and the ledged and braced door.
Instructions for making doors for a shed start here
1. Select the boards to build up the necessary door width and height. For external doors the boards are usually 20 to 25 mm thick and 125 mm wide.
2. The ledges are generally the same width but thicker if possible, ledges are chamfered or beveled. The ledges will be the width of the door minus the depth of the two beads in the door frame and minus a 5mm allowance on each side.
3. It is advisable to prime the timber before assembling as the tongues, grooves and insides of the ledges will be inaccessible when the door is assembled.
4. It is normal when building a shed door for the ledges to be on the internal face of the door, however if for some reason they must be external a good tip is to bevel the top surface and introduce a throat or drip on the bottom edge to throw the water off the door as far as possible.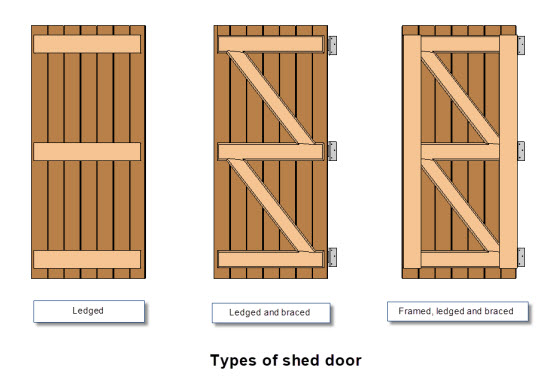 Starting to assemble shed doors is simplicity itself
5. Begin construction by the positioning the three ledgers on the back of the outside batten and screw the ledges securely to the batten using three nails and one or two screws.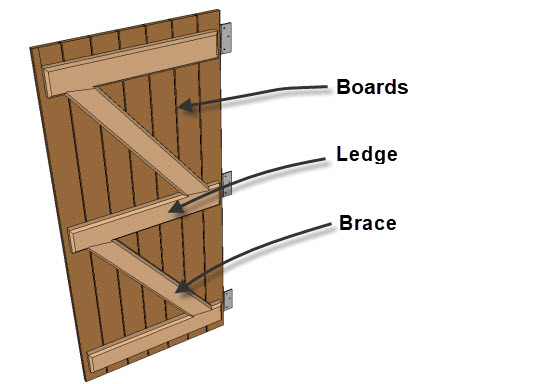 6. Next turn the batten over so that the three ledges lie flat on the bench. The rest of the battens are then placed in position on the ledges and cramped up.
7. The battens are then nailed to the ledges with three to five nails in a zigzag fashion (the exact number of nails depends on the width of the batten).
8. Of course, the nails should be driven in on the skew and in opposite directions for greater security. To make the door really strong the nails should be 'clenched', this makes a bit of a mess of the back of the door but adds greatly to the strength of a nail fixing.
9. The nails should be punched and nail holes stopped.
10. The ledged door is now ready to be finished.
There are three extra steps to complete the ledged and braced storage shed door
11. Prepare the door as above and then 'let in' the braces.
12. The ends of the brace should be kept back about 65mm from the end of the ledge as shown below. By installing the braces this way it will prevent the thrust from the braces splitting away the small portion of the ledge.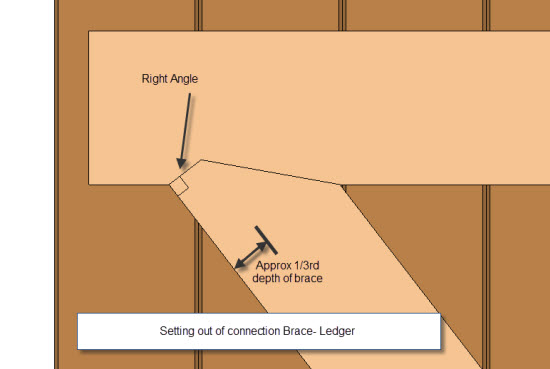 13. When the braces are fitted in position the battens are nailed to them in the same way as for the ledges.
Et voila... you now know how to build a shed door!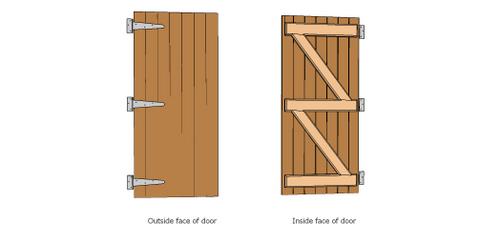 ---
Related posts:
---