Frequently Asked Shed Door Questions
by John Coupe
(Admin)
Shed Door FAQ – I get asked a lot of questions about building shed doors and so I have pulled together a lot of these onto one page for you to browse. Hopefully, you can find an answer to your question in amongst these.

If not please visit my Shed Questions page and ask away.

My only request before you do this is to take the time to submit several pictures and write a good summary your problem. I am keen to help but if I just get a one-liner saying - "I need some help with my shed roof!" it takes a lot longer to help you get to the root of the problem and find a solution.

I look forward to hearing from you if you don't find an answer to your question below:
Return to Shed Door Questions.
Sliding shed door hardware
by Susan
(United States)
I am looking for the shed door hardware that slides the door along the outside of the building. I found a picture of a wrought iron one for an interior door that slides the door along the wall instead of a pocket door or a swing door.

Would like to use an old shed door I have found to close a room in this manner. Haven't found any sliding door hardware like you show in your blue door example on the web site.

Help??
Placement of shed door
by Jim
(Hildenborough, Kent)
On the long wall of a 10' x 20' shed, where is the best place to place the door? Either end or the middle of 20' wall for best use of interior space?

Answer:

Hi Jim,

The best spot to locate your shed door will depend upon the use that you have for your shed. Probably the best thing I can do is to sketch out some of the possible uses and how I would see potential door locations. Then using similar reasoning you will be able to work out which one will work out best for you:

i) If the shed is to be used as a workshop for working on a classic car then, of course, it should be a double door in the end wall. Here you can drive the car in and have space to work all around it. (Though 10' wide is a bit tight for this car!)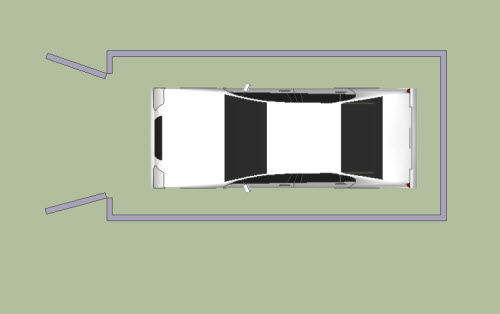 Door location for car workshop

ii) For general purpose storage then I would say that for a shed of this size a double door in the centre of the long wall would work best. This way you have a large opening for getting items into and out of the shed. The distance from the door to anywhere in the shed is short and this means that you don't have to walk from one end of the shed/climb over stuff to reach items at the back.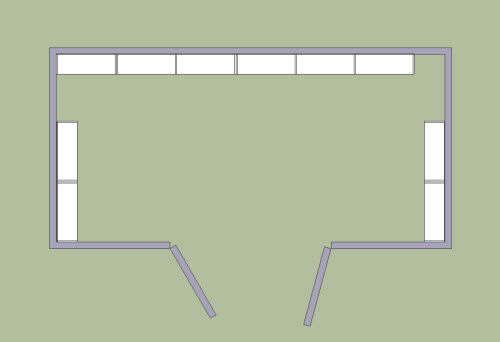 Door location for Storage Shed

iii) For a garden office then a single door in one corner (either long or short side) would work well. With desks on the wall space or a central meeting table the small circulation space required for the entrance maximises the internal work area.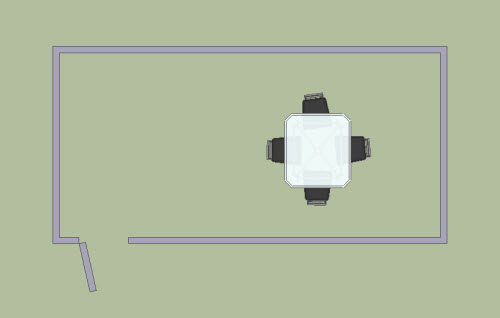 Door location for Garden Office

I hope that these sketches and reasoning give you some pointers as to how best to place the door for your project.

Regards

John

Return to Shed Door Questions.
Changing door location on Duramax shed.
by Ron
(Wilkes Barre Pa USA)
I'm looking at buying a Duramax Woodbridge 10X13 vinyl shed. The doors are on the 10 foot side but in there any reason I couldn't put them on the 13 foot side?

It looks possible since the doors aren't any higher than the walls on all sides. It looks like just a simple matter of sliding in the side panels with the door jambs on any side I want.

Since you have experience building one of these sheds what do you think?

Thanks,
Ron

Rotting Shed Doors
by Elaine
(Conover, NC, USA)
I have a Gambrel Roof 12x20 building with a double-door on the long side. The shed is about 8 years old and the left door as you are facing the building is rotting from the bottom up. I built a ramp to go up to the doors and there is a 1/4" to 1/2" gap between the ramp and the building to allow rainwater to drip. The building is on blocks. The doors face to the south.

The angled 2" x 6" above the centre door has turned up and out for the first 9 - 12 ".

I thought perhaps building a porch cover would help stop the door from rotting but don't know where to hook the rafters.

Do I run a board across the angle above the wall and start rafters from there?

I can easily build a door such as you show or I can attempt to copy the one that is already on the shed. I thought this was something special to my shed until I went to my cousin's up North and he is having the same problem with the same door location. My cousin said he has to replace his about every 5 years or so. He did put a small jut out over the doors which did not stop the rotting problem.

How do I stop the door from rotting in the future?

Thanks!
Elaine
How to secure double doors on a shed
by Shirley
(Tifton, GA)
I have a large outside storage building with 2 doors which meet in the center. I need a lock which cannot be opened by crooks.


Answer:

Hi Shirley,

The locking arrangement for a double door is as in the sketch below.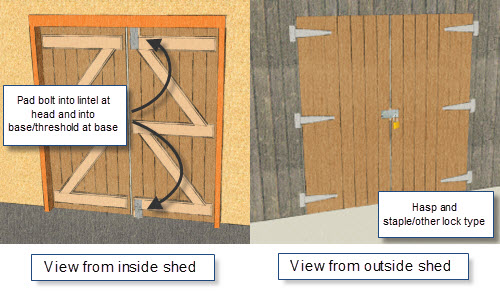 Locking arrangement for double doors




One of the two doors has a pad bolt top and bottom. This secures the door into the threshold at the bottom and the lintel at the top. These can only be opened from inside the shed. The other door then has an outside lock which can be anyone of these solutions :

1. Rim lock
2. Pad Bolt
3. Hasp and staple
4. Door bars

Each of these options are discussed further on this page about shed door locks.

Regards

John

Return to Shed Door Questions.
Shed sliding door hardware
by John
(Virginia Beach, VA)
I am building a 12' x 12' storage shed with a door opening 5'w x 7'h and would like to install a barn style sliding door. Where is the best place to find some sturdy hardware for a sliding wooden door at a reasonable price? The only quality sliding door hardware I have been able to find is extremely expensive.

I would like a quality exterior use product that can stand the test of time since the shed that I am building is of very good quality and construction. Most would probably say overbuilt.

Any recommendations or feedback you could offer would be appreciated.


Hanging a Shed Door
by Joe
(Cork, Ireland)
My father has asked me to build and replace his shed door as it is falling apart and not fit for purpose. The current door is inward opening and therefore does not keep water out. I want to change it to an outward opening door.

The shed is built out of cavity block and I'm looking for advice on hanging the door. If I attach a 4X2 frame will that suffice to hold the door? And is it ok to bolt the 4X2 frame into the block?

Any advice would be very much appreciated. The dimensions of the opening are 33" X 71".

Answer:

Hi Joe,
I have sketched out a typical detail through a door jamb in cavity masonry (this goes a bit beyond my normal remit of just dealing with timber sheds. ;-)).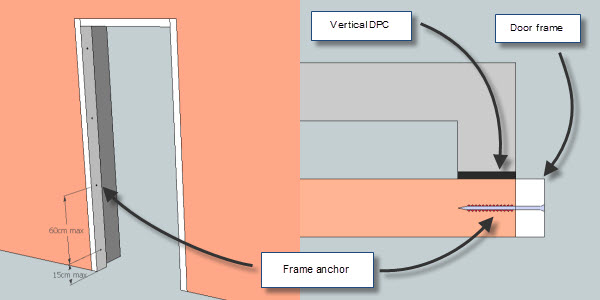 General arrangment of shed door frame and section through door jamb showing fixing

Traditionally door frames were fixed in place using built-in frame cramps. However, with modern fixings, you can secure a timber frame with 'frame anchors' comprising a plug and screw. The zinc passivated screw is typically 150mm long. Anchors are fixed at a maximum of 600mm centres and within 150mm of the top and bottom of the door.

I don't know the detail of your cavity wall at the door jamb. But you should at least have a vertical DPC to stop damp penetrating. Preferably a properly insulated cavity closer would prevent a cold-bridge forming, but probably a bit too much to hope for with a shed.

I also don't know what strength of block you are using but have a look. The type of frame anchor you use might have specified edge distances. Also, a hollow block would require a different type of anchor.

I know that there are a few more questions here but it should give you something to get your teeth into.

Cheers!
John

Return to Shed Door Questions.
Replacement shed doors
by Jennifer Hunter
(Weaver, Alabama USA)
I have a beautiful Heartland shed that needs the doors replaced. Is there any such thing as a door kit I could buy? If so, where would I be able to do that?

Thanks for your help.
Gate bracing
I've just finished a standard timber side gate - 3 horizontals with 2 parallel 45 deg braces. A builder came round to quote for a job and said I had my braces the wrong way relative to the hinges - they should be at the other 45. With my reasonable grasp of mechanics I can't see how it would make a difference which way the braces lie relative to the hinges - any comments?
Shed door repair
by Henry Moss
(Grayslake, IL)
I purchased a 8 X 10 shed some years ago. I was told after it was put up to make sure I seal doors and paint. My question is can a person purchase a shed door? Even though I sealed and painted the doors, one of the door frames is starting to rot. Do I need to replace the 2 x 4's if I cannot get a door?