Shed Design Software
There is free shed design software available that can help you plan out and visualize your ideas for a garden shed, storage shed, home office, spare building, lean-to etc
If you know you need a new shed in your garden but you are at a loss where to put it, how big it should be and whether or not it is going to be worth your effort to really build.
You no longer have to worry about how the shed will look in your garden and whether or not you'll like it. You'll be to see what it will look like before you ever start hammering nails and boards together.
Before we go further, you need to stop and consider a few things. There are two parts to shed design.
The first part is the conceptual design which includes elements such as: the style of the shed; the size; trim; interior needs; exterior needs; electricity; heat and air.

The second part is the detailed design that covers all of the construction details, shed blueprints, connections for the material, and electrical wiring if it is being included.
Conceptual shed design software
If you have a conceptual idea of how you want your shed to look, then in my opinion you cant do much better than this - free shed design software from Google.
SketchUp is a great program created by Google that can help you create 3D models of the world around you. It has been designed to be easy to use and very quick to learn.
This is a great way to start getting a feel for your new building and it allows you to play with numerous styles and options until you get your shed the way you want it.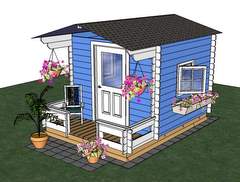 This program is very easy to use and manipulate, you can also model your entire garden with it as it has plants and grasses within the tool types. Take some time to work with the program and don't be afraid to play with it. You may wind up with some interesting coloured grass and bushes and some very neo-designs, but once you get the hang of it you'll be able to look at a wide variety of shed styles to choose the style that best suits you.
Additionally you can download into SketchUp sheds of all types from a site known as the 3D Warehouse. In the 3D Warehouse there are freely downloadable models of a wide range of structures (not just sheds) you can use and manipulate them to see how they work in your garden.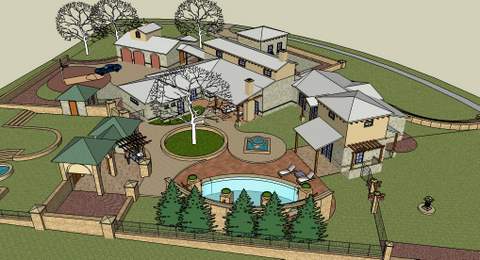 Detailed shed design software
It's hard to find a really good program to use in order to convert your conceptual design into detailed construction information. There are simply too many variables.
The information output from this program would include:
A list of all materials required to order from your building material supplier.

A detailed drawing of each component to enable you to cut them to length.

Assembly drawings showing how all the components fit together.
To compile this information the program would have to convert your sketches into a solid model, determine the material strengths to be used, determine the member sizes calculate the connection strengths using a variety of fixings (nails/bolts/screws). At the moment this combination of tasks is something still best suited to humans.
The best option however is to look for a set of shed plans that match the size and style of shed that you have in mind. The benefit of doing it this way is that if you have any questions on how the plans go together you can contact the human designer and they will quickly resolve your query, I don't normally get very sensible answers from a computer!
Final thoughts
Start your shed planning with SketchUp (free shed design software) first in order to get a good idea of what type of shed is going to work the best in your garden. Try to find that shed in 3D Warehouse and modify the plans there to get the look you want.
Then have a look for a set of construction plans that match the size and style of shed that you have decided works best.
This is the easiest way to accomplish your goal and you will be able to assure yourself that your shed will fit perfectly in your beautiful garden.
---
Related posts:
---