Win FREE SHED PLANS For a Shed of Your Own Design.
We Have A Winner!
The winner of the shed design contest ending 30th September 2008 is...
'The Sanctuary Shed' by Anna-Marie Buss.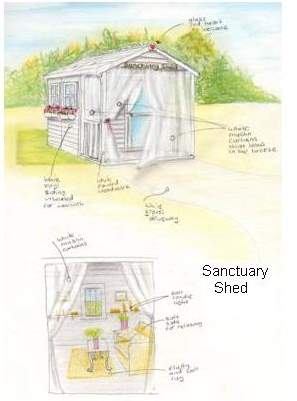 When Voting ended 'The Sanctuary Shed' had scooped up 40 percent of the vote. It was a great winner a very traditional shape but the accessories and the description were what seemed to attract some very complimentary comments.
A Big Thank You To All Participants
I would like to thank all of the entrants who put a great deal of time and effort into preparing their entries. I made a slide show of the entries below so that you can see the range of styles and uses put forward. You can also add your constructive comments and show your appreciation to the entrants by following the links further down this page.
The next competition...
For those of you kicking yourselves for missing this first Shed Design Competition don't worry... another one will be starting in the next week or so, please check back to make sure that you don't miss it!
As a special for the next competition I will be giving away a FREE set of shed plans to the first 10 entries.
Why a Free Shed Plans competition? The answer is that I often get e-mails from visitors to this site with questions about how to go about building sheds to their own design (occasionally I produce sets of plans for those visitors who request it). As this site becomes more popular I hope to be able to offer a range of shed plans for sale.
Rather than make a guess at the style or use of shed that you want I thought that this would be a great opportunity to offer you the chance to submit your own designs and each month choose a lucky winner and create a set of detailed construction drawings that will enable them to build a stylish shed in their own garden.
Don't let the fact that you are not a qualified Architect put you off your chance to win. I have created a shed design page showing the main things to think about in your design. There are also lots of other tips, pictures and photos throughout this site that will help you to create your winning design.
How to Participate and Win
I will be judging entries as much by the written ideas as the drawings/artists impressions that are produced so the competition is as open to those whose strength is writing as much as those whose strength is drawing.

Please have a brief check of the competition Rulesbefore entering.
A Competition Where Everyone is a Winner?
If you win you get detailed plans to enable you to build your dream shed.
If not the process of thinking through exactly what you want from a shed is very valuable and will help you to crystallise your ideas. The competition is structured as being an open book (more of a co-opetition) I and any others with constructive advice can offer suggestions and comments to help refine your design further.
So go on let your imagination loose and win your set of free shed plans.
The Contenders.....
Click on the links below to see the shed designs before you cast your vote.