Shed Design Competition 2009
When voting finished at midnight GMT on 30th November 2009 the winner was the OPEN OFFICE by Kenny Van Den Berghe a student at the Florence Academy of Design.
Click Here to find out the full story
---
Shed Design Competition 2009 Finalists:
A big thankyou to all entrants to this years competition, there were 70 entries when the commenting stage closed. The 10 entries with the most comments at the closing time (increased from 5 due to the volume of entries and comments) are listed below.
When the competititon closed for new entries at midnight GMT on 31st October 2009 the 10 entries with the most comments were (in no particular order).
Links open design in a new window:
Contemporary California Shed
A Garden Studio
Box Office
Architects Garden Studio
Inside Outside Office Shed
Nature's Shed
Art Shed
Open Office
Junk Art
ECO-Traveller - Office on the road
---
Shed Design Competition 2009
This years Shed Design Competition builds upon the Shedworking garden office design competition where we all won a prize back in June!


It seemed to me that there was such a reservoir of ideas and talent out there why not have another opportunity to express those ideas and get a bit of fun and recognition from them? I have decided to splash out a bit this year an provide a prize of an
Apple Ipod Nano 8Gb
for the winning entry.
This is the brief for this years competition:
Imagine that you are about to start working from home.
This could be because you are starting a small business. It could be that your company is moving towards a more geographically diversified workforce. It might be a part–time work space or a full time office. You might be working alone or as a small team. It could be for office-work or as a workshop or art-studio.
What would your garden office look like?
What would be the features that you would include? Is eco-friendliness important? Is the outside appearance more important than what goes on inside? How big would it be? What would be the essentials within the shed to help bring out the best in you?
Use your imagination to come up with an attractive well thought through design? From last years experience there were a wide range of designs but the winner did I great job of creating an attractive image (although the actual architecture was very straightforward) and combined it with an excellent description of how the shed would work.
The basic rules of the competition are here.
To qualify for entry you must do the following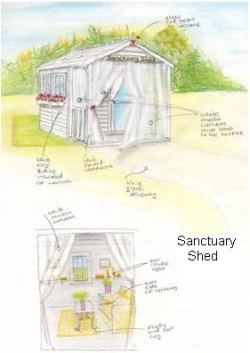 1. Create an image of your ideal shed using the brief above.
This could be using traditional drawing materials. Like last years winner >>
Or
Create a computer-generated image using
Sketchup.
Or
Some other method....
2. Tell us a bit about how your shed would be used and features that would be important to you.

Some basic hints on shed design are here.
The judging for the prize will be in two stages. Firstly, once your entry has been accepted e-mail your friends, workmates and relations and get them to comment on your entry to give support and encouragement. (please keep this real as I have a method of detecting if you are submitting lots of comments from one computer ;-))
The five entries with the most comments on the closing date will be the finalists. I will then create a Poll for you the Readers of Shed Building Monthly to vote and determine the winner.
The Contenders.....
Part of the judging for this competition is based on what YOU the reader have to say. Make your comments and suggestions on the designs after clicking on the links below.