Is Foil Backed Bubble Wrap Good To Insulate A Shed?
by Alistair
(UK)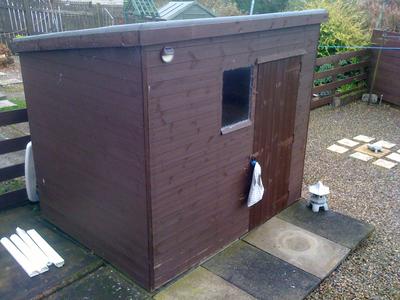 Hi John. I was looking through your site and was wondering if I may ask your advice? I am about to attempt to insulate my garden shed. It's an 8x6ft approx. wooden shed with a wooden floor that sits upon a slabbed surface.


I use it mainly for storage but I do find myself out in it a lot as I keep a lot of my car detailing stuff in it. Mainly I need it to be as dry as possible for the sake of cloths and towels.
Like most other sheddies I store some DIY things there too. So the idea of the insulation was just to keep some of the cold out and some of the heat in during the spells I find myself using the shed.
Over time I may line the walls with some plywood or OSB. Not too sure yet. I have just bought 2 rolls of foil insulation. The stuff that's sort of like foil bubble wrap. I am going to staple it to the walls and roof leaving an air gap between the wooden walls and the roof. My question firstly is does this sound right? Secondly, will the foil insulation attract any condensation? I've just managed to get the shed itself watertight and don't want any moisture collecting. Also, what would you advice be on using the foil insulation on the floor? I have carpet down already but could some insulation be put down under this?
Alistair