Shiplap Wood Effect Metal Shed 10ft3"x12ft1"
by James Forman
(Aberdeen Scotland)
Problems with my Arrow shed which I bought from Argos in Aug 2009. - The shed was put together in 2 days following the instructions as given. When we were erecting the shed we thought it was really thin sheets of metal, at this stage, we should have sent the lot back but hoped when complete it would strengthen up.


After completion, it looked good and we thought it would be fine and being made of metal wouldn't need to be maintained. We had an 8x6 metal shed in our last house which is still standing today 20years later (but maybe it was a different brand).
Our new shed stood for 4 months. In January 2010 we had lots of snow we thought nothing of it till my wife went and opened the doors to get something out of the shed and to her horror the whole roof had buckled inward in the middle. We contacted Argos and they said that it was an 'act of GOD' so in February 2010 we have to pay £505.79 for something we don't know what to do with.
As we can't get any contact with the actual makers to let them know that their roof structure is too weak for purpose and to do something before other people waste their money for nothing.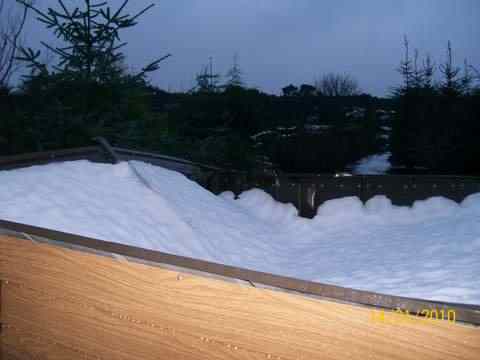 Click here to read or post comments
Join in and write your own page! It's easy to do. How? Simply click here to return to metal shed reviews.
Yardmaster 13' x 12'
by Gregory Black
(Lanark, South Lanarkshire, United Kigndom)
Nice appearance, though the door height is to low I am 6'4" and skinned the top of my head on more than one occasion, The anti-rust seems to work fine.

The biggest problem is it does not withstand snow build up and collapsed with 12"-14" of the snow on the roof despite Yardmasters claims of you have no worries about snow build up.The shed is 2 and 1/2 years old and is a total write off.

Yard master offered £90 off a new shed or £180 off a garage costing £582 The shed cost me more than £400 (now available for about £365) I have not taken them up on their offer as I think they should have offered much more. Yardmaster are now ignoring my emails and it looks like I will have to take it to law.

The product does not live up to its design claims. I will update the picture when I dismantle the remains of the shed.

Greg Black



Comment from Potter Shed:

Thanks for the photo and review Greg. When you dismantle the shed (not sure if the thaw has set in up in Scotland yet!) take a few photos and if you could sketch how the roof is framed I could try a few calculations to see if I can determine the roof capacity. May be possible, may be not, as sometimes these are 'designed' using full scale tests rather than calculation.

All the best

Potter Shed

PS if you send in further photos/sketches I can add them to this thread.

Here's the extra photos from Greg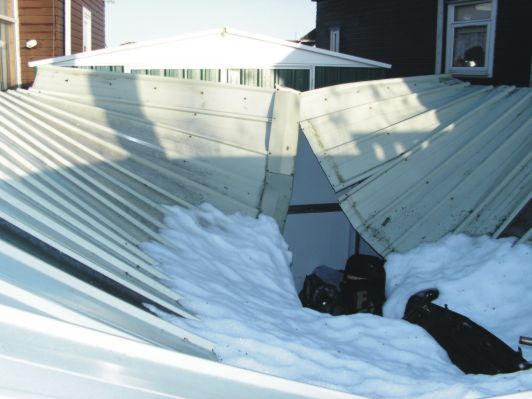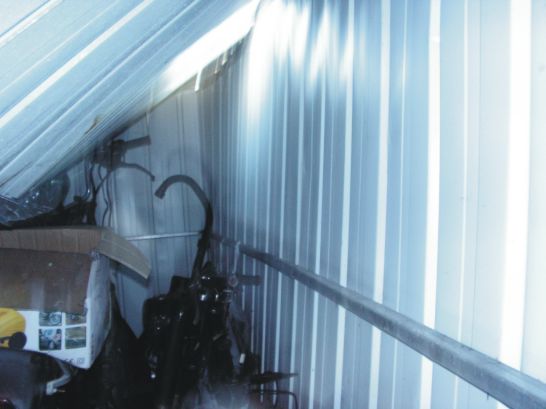 Cheers

Potter
Click here to read or post comments
Join in and write your own page! It's easy to do. How? Simply click here to return to metal shed reviews.