Building a shed - Five Essential Questions Before You Start
Before you start building a shed, take the time answer these five simple shed-planning questions. After all, a little preparation can save a lot of time and trouble. Having a clear picture of what you want your shed to accomplish will make construction much easier ensure that you are building a shed that fits your needs.
These first five questions assess general shed building considerations. After you've answered these questions, be sure to click the link to read Five More Shed Planning Questions that will help you assess more specific shed-building aspects.
1. Have you checked local council and community restrictions?
Many local councils have clear restrictions on the construction of outbuildings and sheds. Building a shed or a permanent garden structure can require building regulations and planning permissions. If you plan on connecting water pipes or wiring your shed for electrics, you will need planning permission and building inspections.
Temporary structures, such as sheds, are still subject to various regulations. Research your local council's guidelines on sheds. Sheds must often be placed at a certain distance from neighboring property lines and may not exceed certain height limitations.
Community or neighborhood covenants may also restrict the placement of the shed. Often such covenants state that sheds should not be visible from the road or that sheds must be built behind the house or placed behind a fence.
If you live in a hurricane or tornado prone area, your shed construction guidelines may contain more stringent building regulations, such as clear standards for the number of more nails per inch in roof beams and the use of metal fasteners.
Taking the time to check your local council and neighborhood guidelines can save a lot of trouble in the long run.
2. How much time and energy can you devote to your shed project?
How quickly do you want your shed built and assembled? How much time do you have to devote to your project? What sort of difficulty level do you feel comfortable with? How much money are you willing to invest in your shed? Answering these questions can help you assess what type of shed structure is right for you.
If you don't have the time nor the inclination to start from scratch, then there are plenty of pre-fabricated shed options available.
Building a shed can be a lot of fun, and it can be made even more enjoyable if you have a few eager friends who are willing to contribute a helping hand. That extra pair of hands may be particularly helpful when you are dealing with cumbersome materials, hefting a lot of weight, and need someone to steady awkward pieces. As the saying goes, "Many hands make light work." If you know someone who has a lot of construction experience, they can offer invaluable insights and assistance.
3. Have you carefully assessed your shed location options?
After viewing the council and community guidelines, have you decided where you plan to build your shed?
When building a shed location is important, think about the shed's function. Will you often need to get equipment in and out of the space? Are there clear pathways to and from the shed? If your shed is housing pool toys or firewood, is it in the most convenient location?
Could nearby trees unsettle the foundation? And remember, even small trees may grow into a big problem.
Are there low power lines that could make construction difficult or dangerous?
Have you found an area of the garden that is level or can be made level?
Consider if it important to you that your shed blends in with existing garden areas or are you primarily concerned about the functional aspects? How much of your garden are you willing to devote to the shed? If you don't have much space to allot to a shed, consider a lean-to style that can attach to the garage or house, or a corner shed that can fit against a fence.
4. How do you plan to use the shed? Determine the purpose and function.
Sheds come in many shapes and sizes. Having a clear picture of how your shed will function makes it easier to determine a suitable size and shape.
Are you building a shed to store things that are not suitable for the house, such as pesticides, chemicals, and fertilizers?
Is your shed primarily going to be an overflow storage area for the things that no longer fit in the garage, such as bikes, grills, and seasonal toys?
Do you plan to work in the shed? Will your shed need to have a ceiling height that can comfortably accommodate you and space for a worktable or storage shelves?
If you plan to store things that are unusually long or wide, you may need to consider a custom shed or find a shed with that meets specific length or width measurements. In hurricane regions, sheds are a great place to store hurricane shutters, but shutter panels can be long and may not fit in average sheds. The same may be said for items such as kayaks or building materials such as long timbers. Planning ahead for any special size requirements will ensure that the space functions to its maximum potential.
5. What roof style and roofing material is best for your shed?
Many pre-made sheds come with ready-to-assemble roofs. If you are building a shed of your design, you will need to consider the various options that are available to you.
From single slope roofs to gabled roofs, there are many roof options that may appeal to your tastes and needs. Considering typical wind gusts and snow accumulation in your area may help you determine what roof style is best for your project. Click here to see examples and learn more about shed roof designs.
Once you have settled on a roof style, consider what type of roofing material you will use to cover the roof surface. From clay tiles to corrugated metal to composite shingles, there are many options available. (Click here to learn more about shed roofing materials).
Are you looking for a way to increase your knowledge of Shed Building?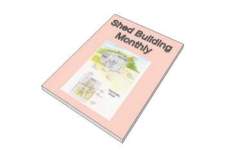 Do you want an easy, simple way to learn more about building sheds?

Keep up with the top answers and tips to shed building questions from our Mini-forum.

Would you like a FREE, downloadable, virtual shed?
If you answered Yes! to any of these questions then pop your contact details in the box below to keep updated with all the latest from this site.
Once a month, on the first of the month.
Your email address will be kept confidential and won't be shared.
Easily unsubscribe at any time. I hate Spam as much as you do!
Ready to Build....
Now you should be getting a clearer picture of what sort of shed is best for you, but don't grab your hammer just yet!
Before you start building a shed take the time to consider five more important shed-planning questions.