A Double Door Shed for Easy Access
A double door shed is ideal for storing large pieces of equipment, such as a lawn mower, wheelbarrow or motorbike. Open both doors for moving large items in and out of the shed, keep the second door closed when you are moving smaller items or for everyday access.
This door arrangement is also ideal if occasional wheelchair access is needed, since both doors can be opened to allow for plenty of room.
If the shed is used as a small workshop, both doors can be opened for fresh air or only one door if privacy or reduced ventilation is needed. It can make the shed seem bigger when both doors are open, since more than one person can be inside the shed without feeling like they are limited on space.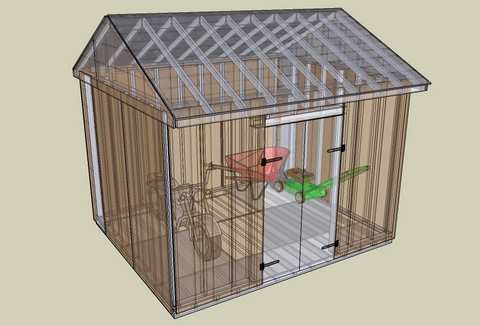 When choosing a shed with double doors think about which wall of the shed you want the doors. The pictures of this apex double door shed show both options. Often having the doors in a long side wall will give easiest all around access. Having doors in an end wall can mean that some items get left at the back due to the difficulty of access.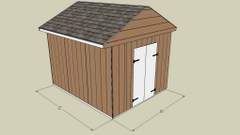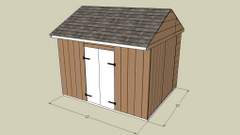 Double door security
A double door shed is convenient for those using their shed for storing larger items, but it has its disadvantages as well. The main disadvantage of having two shed doors is the decreased security.
Double shed doors lock into one another, meaning the main door locks into the door that is mainly kept closed and stationary. The stationary door is secured into the door frame at the top and the threshold at the bottom using barrel bolts. When choosing, designing or building a double door pay attention to these points and the strength of the stationary door edge.
Some designs facilitate double door locking using a center post. The stationary door will lock-in to this upright in the same way that a single door would lock into a frame, the post can be made to be easily removable or semi-permanent.

This shed owner has recognized the problem of double door security and installed a lockable bar made of angle iron across the doors at mid height to keep the shed secure,.
In contrast single doors lock directly into the door frame that never moves, making it much more secure. For more information how to keep shed doors secure have a look here for shed door hardware and here for shed door locks.
Despite these concerns about security, double shed doors are a very useful and frequently used mid-way option between a single door and using sliding shed doors, which are used for securing the largest openings.
A shed with double doors has its advantages, because it provides increased ease of access for all of your storage needs. Based on the items you plan on keeping in your shed, you should be able to determine which type of shed is best for you and your storage needs.