How to Install a Small Woodburning Stove?
Installing a small woodburning stove was the problem being faced by Dave Smith, a visitor to Secrets of Shed Building. Dave contacted me through the Mini-Forum to see if I could help with his latest project which was to install a small woodburning stove that he had been in given.
Now I am a Structural Engineer and this is not really my area of expertise, however after a bit of a chat and a lot more research Dave started the project.
Dave takes over the story from here :-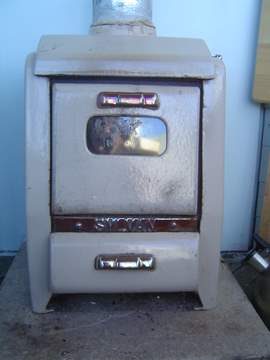 In true shed building tradition, the stove is recycled, thrown out when a narrowboat was refitted. It is essentially a solid fuel stove but will burn wood, providing the chimney arrangement is straight up or doesn't have too many bends in it.
With the shed made predominantly of wood I was naturally concerned that the fire would need a fair amount of protection. I managed to obtain 2m of single skin galvanised chimney and a rain hood quite cheaply. The more I read about chimneys going through wood, the more concerned I got about the galvanised chimney until I abandoned my original approach with the workshop chimney and went 'belt and braces'.
The fire sits on paving slab, and I used a 1 m length of the galvanised chimney for the first run from the stove. I then bought a 1 m double skin insulated chimney, a four inch chimney adaptor, a wall support and a new wider rain-hood for around £70.00. The single skin galvanised section actually acts as an additional radiator when the fire is lit. To get a good draw, you need 0.6-1m above the roof.


| | |
| --- | --- |
| | View of Chimney passing through roof from below. |
| | Outside view of Chimney passing through roof. |
Where the Chimney exits the roof, I changed a panel to 1/4 in fire retardant ply just in case. with 50mm gap between the roof and the chimney and is secured to the roof using a fireproof rubber boot or gaiter. I also installed a 12mm fireboard behind the fire to protect the wooden walls. I've since measured the temperature with an infra-red thermometer and got the following temperatures.
Temperature of fire and surroundings
Fire Burning wood 157C
Fire Burning Coal 190C
Galvanised chimney bottom 67C
Galvanised chimney Top 30C
4" adapter to Doubleskin chimney 57C
Double skin Chimney 25C
Wooden Roof panel 20C (50mm from chimney)
Fireboard at rear of the fire 20-25C
The wooden elements of the shed get no hotter than a fine summers day. Altogether it works a treat, with a good draw. I probably went a little over the top with some of my precautions, i.e. the fire is so efficient there is very little heat emanating from the rear of the stove, that's probably due the firebrick insulation, and could probably not have used the fire retardant ply in the roof.
But, hey ho, I'd never done this before.
It's surprising how many new friends you make on a cold winters day when the fires roaring and the kettles on!
Many thanks for all your help in bringing this project to completion.
Dave
A job well done there Dave!
If you are considering installing a small woodburning stove in your shed make sure that you comply with any Building Regulations where they apply. Even if it is not required that you follow local rules, they are an excellent resource for making sure that all the main points are covered with respect to safety.
---
Related posts:
---