A Classic Gable Shed
Pictures of this classic gable shed were sent in by Secrets-of-shed-building.com reader Tim Brummett from Illinois in the United States.
He says:
"I have enjoyed your site very much....I wish I would have come across it BEFORE I designed and built my shed last year. You have tons of great information here! Thanks so much for sharing! I particularly like the keystone architectural treatment to the gables and door & window trim as well as the green siding/white trim scheme with shutters.....it matches our house and I think it's a classic looking garden shed. I have already built the shed using the plans I drew up in Adobe Illustrator and thought you might like to see it."
These are the plans that Tim drew: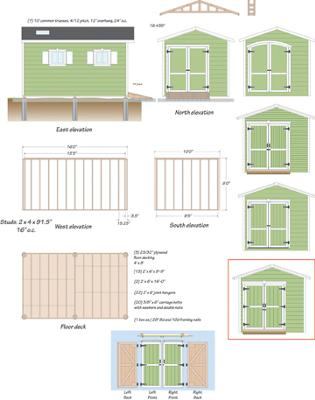 Here is a photo of the completed shed: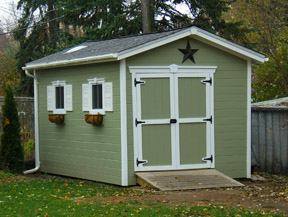 Great Job Tim!
Click here to see Tims entry for the shed design competition
It is interesting to see the varying door styles Tim tried before the solution he finally adopted.