Help With Choosing A Shed Door Lock
The important thing to realise about shed door locks is that nothing is 100% secure. I have worked on construction sites where thieves have broken in to well locked steel containers.
Follow the shed security tips below and you wont go too far wrong :
Do not to advertise the contents of your shed, i.e. cover windows so that the contents cannot be seen from outside

Use locks appropriate to the overall strength of the shed.

Make it difficult for a thief to get to your shed by reviewing the overall security of your garden or allotment.

Make sure that the contents of the shed are recorded and covered by the house insurance.

Secure or hide the most valuable items. Tools can be inside a locked steel cabinet, bikes can be secured to a ring cast in to the floor.

Overall the threat is probably less than we think, sensible reasonable precautions should deter most opportunist thieves.
Door locking options depend on the type of door and whether it is framed or un-framed
Securing unframed doors.
Unframed doors aren't as strong as framed doors (The door frame adds a lot of strength). For the average shed with an unframed door, there are three types of lock which are fixed to the central door ledger.
Hasp and staple
The most basic type of shed closures is the hasp and staple along with a padlock.

Pad bolts
The lockable pad bolt is another solution.
Remember to use tamperproof screws or a bolt through the door ledger.
A pad lock protector (see photo below) gives some extra security to a hasp and staple.
Rim locks
Rim locks are screwed on to the door ledger. This has some advantage in that there is nothing to try removing from the outside.
For increased security try fitting a lock to each door ledger. The owner of the shed in the picture below isn't taking any chances.
(It is worth noting, though, that plastering your shed door with padlocks, sort of advertises that there may be something valuable in your shed.)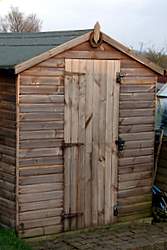 Securing framed doors.
The mortice lock is the most secure and unobtrusive type of lock. This is the type of lock as used on house doors, a simple Yale lock could also be used.
This framed door has a mortice lock which secures the door into its frame.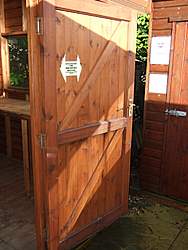 Creative solutions
If high security isn't required this wooden door latch adds a bit of character.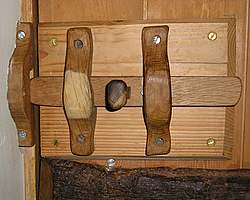 Or try a cycle lock!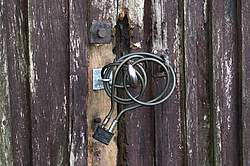 In the field of shed design there are many variations, most of the above are easily available strong solutions. However there are always alternative approaches!
---
Related posts: