Shed Project Review - Building a garden office
Do you remember the moment when the inspiration for your shed building project first hit you? Ian Burdon does and he has been kind enough to share this moment as well as the rest of his story right the way to the completion of the garden office. He has a quite a few tips as to what worked best for him, the trials and tribulations along the way as well as how he keeps it warm during cold damp Edinburgh winters .
Here we go with Ian's story.....
The start of something big
My shed odyssey began in my favourite part of the UK - Sutherland. I can date it exactly to Sunday 4 July 2010 because I was writing up my blog in the conservatory of a holiday cottage, relaxing in the rhythmic susserations of the waves on the rocks nearby and the inevitable rain on the roof. From nowhere I had the idea of a Man-Shed, insulated, with solar power. That blog entry is here - www.cosmicsurfer.co.uk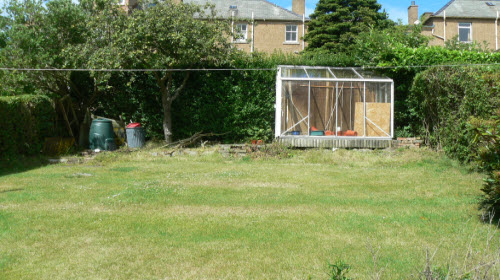 The proposed site before it was cleared
Over time my thoughts developed but eventually I settled on using reclaimed double glazing and doors, rescued from skips around Edinburgh (where I live) and building around them using reclaimed wood. The idea of solar power remained as did the need for insulation because of the depth of the temperatures recorded around Edinburgh in winter. I wanted somewhere to retreat, to listen to music which no-one else in the house likes and to read and write. I have previously built an octave mandolin and a guitar on the kitchen table (I won't get away with that again!), so I also needed a workshop area.
I toyed with a number of ideas including one suggested by Maddy Harland at Permaculture Magazine of attempting a cruck frame structure based on one of Ben Law's designs (http://www.ben-law.co.uk/).
Then life took a turn. An opportunity for early retirement came up at pretty much the same time as I was asked by someone else if I would be interested in working for them. I said yes to both and changed jobs in early 2011 at which point I also needed a home office. The new job also meant that I spent quite a lot of 2011 out of the UK and wouldn't be able to take on any work of building the structure. So I spoke to a contractor, Wayne Tough at www.thefifthroom.org.uk who had done some garden reconstruction work for us and he was keen to take it on as part of a larger project, contracting out the building and electrical work.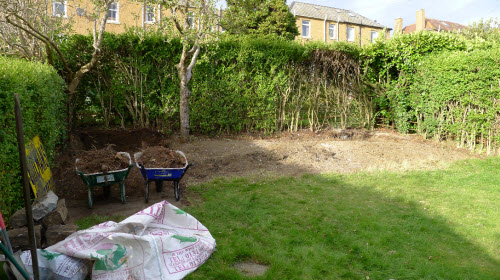 The garden office site ready for construction to start
How hard can it be to find someone to source and build something out of reclaimed materials?
Very seems to be the answer. Wayne and I grew frustrated that not a single contractor would take it on, wanting only to use new materials and work from standardised plans. Nor did any of them pay any attention at all to limitations on my budget. Suggesting a cruck frame structure to them was a non-starter, I might as well have tried to converse in mongolian while wearing a gas mask. Eventually I gave in and looked to see what was available online.
This was when I realised that mention of a 'home office' seems to be a powerful super-magnet attracting multipliers to the price! Eventually I settled on the idea of buying a structure from Waltons, insulating it, and heating it with a wood-burning stove. As time was moving on I decided to pay for power to be run out to the shed and to look at the solar option later.
And so I bought a Waltons 4mx3m Greenacre garden office. The walls and roof of which were then insulated with 50mm King Span insulation board over which an inner skin of tongue and groove cladding was applied. In late autumn the heat of the sun alone was sufficient to keep the shed toasty warm but this left the problem of winter.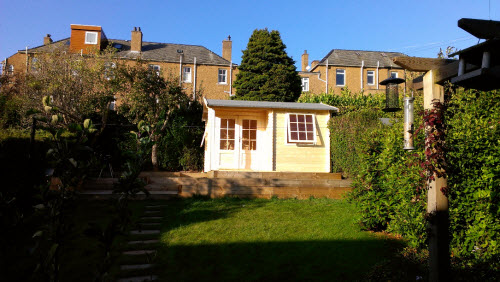 The completed garden office
Heating the shed
I selected a small word burning stove designed for use on barges and Wayne was about to install it when I double checked with the local authority regarding planning and it is as well that I did. The shop which sold the stove failed to mention that Edinburgh is a smoke controlled area and using that particular stove, which was not DEFRA compliant, could have incurred a £1000 fine had a neighbour complained.
We could have saved a lot of hassle had the store let us know when we bought it. Naturally, the 'approved' stoves are predominantly designed for use in houses and attract a premium price.
With winter approaching I compromised again and bought a 2000 watt oil filled radiator at a knock down price from Amazon. My brother in law was luckier - he found one that a local church was throwing out and has it in his shed where he also has a forge for making pocket knives from scratch. But I digress.

The oil filled radiator heating solution
The heater works well but is not my ideal long term solution. In part this is because the Waltons shed is single glazed which compromises the benefits of the insulation. That can be addressed with roller blinds and a heavy curtain at the door, but I also find that the radiator isn't quite powerful enough to warm the space quickly when the outside temperatures fall sharply.
The project is now complete
As I write this in the shed I am once again listening to the clatter of rain on the roof though sadly not to waves on the rocks. I am happily relaxing with resolutely non-commercial music in splendid isolation, entirely separated from Christmas editions of Eastenders and other seasonal delights on offer in the house. I have my bookcase that I rattled up from some left over decking and a cd rack knocked up from left-over tongue and groove cladding.

The writers haven!
Compromises have taken me away from my original ideas but I am content with what I have, although part of me regrets not giving more serious attention to the cruck frame approach. For now I am going to live with the shed as it is until summer 2013 when I'll take stock. I still want to supplement the power in the shed with solar, particularly since it has a south facing roof. I need to boost the wifi signal from the house and I have yet to build a workbench for a mandolin I plan to build shortly. I'll get onto them just as soon as I have finished my mug of tea, maybe, sooner or later...
And I'm still thinking about a Highland bolt-hole.