What Is The Best Shed Cladding To Use For The Walls Of Your Shed?
Shed cladding is one of the largest areas of expense on your shed project. Covering the four walls of your shed with an attractive and weather tight barrier to the elements is your aim. But there is a such a wide variety of shed cladding board profiles available and they are available in a wide variety of species of timber.

Cladding a shed using shiplap cladding
How do you choose what type of shed cladding to use on your shed?
The largest market for these materials often isn't sheds, it is cladding permanent structures. So hopefully this article will go some way to putting the information of what timber shed cladding materials are available from the shed building point of view.
I am going to start this article talking about the different types of shed cladding boards that are commonly used. I will then move on to give you an idea of the types of timber that are used for cladding a shed.
As you will discover external timber cladding for sheds comes in a wide variety of tree species and costs.
Also each cladding type has its own potential and limitations for the look that you want to create. I hope that this guide will give you a good introduction of what is available and what suits you.
7 types of shed cladding profile
The types of shed profile that I am going to discuss here are the sorts that are generally available in timber merchants. As you will see as we go on there are often several different section sizes and dimension combinations for each different classification of shed cladding.

A rack with a variety of cladding samples at a local timber merchant
The general view here is that I start off describing the most basic form of shed cladding, which is waney edge boards direct from the saw mill and then move on up. Through rough sawn feather edge boards and on up to planed and machine jointed boards that are designed to create quite specific visual effects.
1. Rustic, waney edge shed cladding
Waney edge cladding is the most rustic of cladding that you can get. It is boards as they come direct from the log, at the sawmill. No planing and very limited if any cutting.

Examples of 'waney edge' shed cladding boards
This type of wood is most often a surplus cut when the sawmill is cutting logs to create beams. The very first slice is discarded (though I have seen these used) and the next slice is about 20mm thick and varying widths, though on average about 200mm.
The wood for waney edge cladding is generally quite green too, so it will season on the shed in-situ. Boards are overlapped and the arrangement is a bit of an art. Each board is a varying width and so selecting the right board to overlap with the one above and below is a bit of an art.
A range of timbers are available. Oak, sweet chestnut and larch are commonly used naturally durable timbers. Elm was historically used as cladding for barns. Even though it is not classed as a durable timber it did last a long while.
2. Featheredge shed cladding
Featheredge cladding has an undeserved reputation as a low quality option for cladding a shed. In its cheapest form it is a very thin narrow panel that is used on a similar fashion to those on a fence, like the section on the left in the image below. These type of feather edge are quite thin (typically 12mm down to 4mm). And can suffer from distortion and warping due to their small section size

Typical sizes of feather edge cladding
Larger featheredge boards are 150 and 200mm in width. These are much thicker and so the timber tends to move less. As you can see from the picture below the 200mm wide feather edge board is much thicker than the 150 wide board.
To ensure that the timber cladding is as weather tight as possible the boards are overlapped like fish scales. The recommended overlap is 40mm for 150mm boards and 50mm for the 200mm boards. This accommodates any expansion and contraction in the boards and gives the cladding some resistance to wind driven rain.
Featheredge siding is at the more rustic end of shed cladding. It is most often supplied with a rough sawn finish. For some this is seen as a benefit as the cladding tends to be cheaper and it doesn't lose any of its thickness through the planing process.
3. Rebated planed face tapered cladding
This profile has a very similar appearance to feather edge. But it has been planed on both sides so has a smooth face. Also rather than boards being nailed over the top of one another, leaving a gap behind each. This cladding section has a groove that has been machined in the back which means the back side of each cladding board is in line.

An example of rebated, planed face, tapered cladding
4. Shiplap shed cladding
Ship lap shed cladding gives a more finished look than feather edge. It is machined so that the boards overlap and that front and back faces are in the same plane.

Examples of the range in sizes of shiplap cladding
The dimensions of shiplap cladding can vary considerably as you can see in the picture below. The characteristics of ship lap are that there is a rebate (rabbet) on the bottom edge and a slightly sinuous curve at the top of the board.
The rebate and curve add together to enable a relatively straightline to the front and back of the cladding.
5. Log lap shed cladding
Log lap is a more recent development of ship lap. It has a curved outer face combined with the rebate at the bottom and projection at the top. The overall effect is to create the visual appearance of a log cabin made out of logs, but with a fraction of the timber.

Two types of log lap cladding. One with a simple rebate and the other interlocking
In my view log lap cladding looks a bit fake and to get that effect you have to waste a fair amount of the timber to create that external curved profile. But it is quite widely used, so someone must like it!
6. Tongue and groove, T & G, TGV shed cladding
Tongue and groove boards are a step further along the line of weatherproofness. Whereas the featheredge and ship lap just overlap each other. With tongue and groove shed cladding adjacent boards interlock so it is more weather tight and resistant to warping than ship lap.

Two contrasting sizes of tongue and groove cladding
7. PMV (Planed, machined with V joint) Channel cladding
This section is similar to tongue and groove but has been slightly more machined. Rather than the simple V joint between boards with the TGV cladding the PMV channel cladding has a flat section as well between the boards. This creates a 'shadow gap' which gives a slightly different appearance than the plain TGV boards.

PMV channel cladding
Also as the joint is slightly more open there is less of an opportunity for water to rise into the joint, or be retained there by capillary action. Both edges of the board are machined at an angle so that water is actively drained away which wouldn't happen if they were cut at 90 degrees.
That gives you a good overview of the different shed cladding profiles that are available. There are variations in the different shapes that are made from area to area and also between countries.
These cladding profiles are just shapes, lets now move on to the different species of wood that these profiles are made from.
Types of wood used for shed cladding
We now move on to the selection of wood types that you might use to clad your shed.
Choice of timber type along with the section profile is another way that you can significantly affect the cost of your shed cladding.
For example you will find that planed and profiled oak shed cladding is one of the most expensive materials out there. But if you really would like your shed to be clad using a species such as oak, a good looking and durable timber, then perhaps using rough sawn feather edge or waney edge boards would be an alternative.

8'x6'clad in Douglas Fir, 200mm feather board and then
I also only discuss in depth commonly available timber from temperate climates. There are cladding profiles made from tropical timbers such as Sapele. However it is my view that we are cutting down these forests and then transporting the timber vast distances when we have so many excellent timbers on our doorstep. I encourage you to be kind to the earth when making your shed and make one factor in your choice of shed cladding material be that which has the least environmental impact. The Forestry Stewardship Council runs an accreditation scheme that tries to ensure that best forestry practices are followed.
One final point there are lots of more in depth analysis of the strength, durability, density of each species on learned sites such as TRADA, but these don't consider our tiny little niche of making our sheds weathertight. So read on for more about my thoughts on which species of timber you might choose to clad your shed.
1. European Redwood cladding - Scots pine
European redwood is often described as pine and is often used as shed cladding on mass produced sheds.
Plain untreated wood is used for some shed cladding which then needs painting or staining with a preservative to protect it from the elements. Some sheds come described as dip treated. This means that the timber has been passed through a bath of preservative. This gives the wood a surface coating to prevent insect attack and shed moisture.
Further surface treatment is required for long term durability. See here for more on woodstain versus paint
2. European whitewood - Norway Spruce
European whitewood has many of the same properties as redwood. But is considered to be less durable and resistant to fungal and insect attack.
3. Larch
In contrast to pine Larch (another coniferous tree) is actually very durable. British grown larch is frequently used for cladding purposes but the premium wood is slow grown larch from Siberia.
4. Douglas fir
Along with Larch this is one of the more durable softwoods

Douglas fir feather edge cladding. Showing the variety of colours in its unweathered state.
5. Cedar
Probably the most durable of the softwoods. It's main source is the western coast of North America. So it will likely have travelled a fair distance if you live in Europe. It is especially useful for roof shingles. It can be cut into tapered 'slate' like sheets which are fixed to roofs so that they look like roof tiles. The appearance changes over time, the timber starts off as a red/brown and ages in the sun and rain to an attractive silver colour.

Cedar shiplap cladding, showing a range of colours from light to dark brown
Cedar is also available cut and shaped into many of the cladding profiles discussed earlier.
With all cedar products closely study the grade that you are buying.
Cedar for shed roofing and also cladding comes in a wide variety of standardised grades. If you see some cedar product online that looks too cheap to be true look very closely at the grade. It is likely that if it is cheap it is a low grade that may have a large number of knots or splits in it. (more on the grades of cedar shingles)
6. Oak
Is a naturally durable hardwood and used for cladding in a large variety of formats from waney edge timber to planed and machined profiles. I don't see many sheds with machined profiles as it gets expensive quite quickly. But using waney edge or rough sawn feather edge boards can be quite a cost effective way of achieving a durable and good looking shed cladding solution.
7. Sweet chestnut
Sweet chestnut is not a widely grown species, but it has excellent environmental credentials and many of the same properties as Oak.
When grown as a coppice crop it is harvested on a 15-30 year cycle, dependent on the end use. The huge advantage of coppicing timber is that the trees aren't clear-felled. The timber is cut off just above the bole of the tree and it regrows quickly using the existing established root system.
8. Sapele
Is a tropical timber. Excuse me once for being a bit environmental, but why would you want to use a tropical timber which may or may not be ethically sourced when you have all the above timbers plentifully available grown not too far from home?
Although there are forest stewardship schemes for tropical timbers I would rule it out on environmental grounds alone. There may be some applications where tropical timbers are the only solution available but surely not for cladding sheds?
9. Treated/tanalised softwood
When discussing using species of pine I mentioned the dip treating of timber to provide a surface coating to prevent insect attack and fungal growth. This protection isn't very durable or long lasting.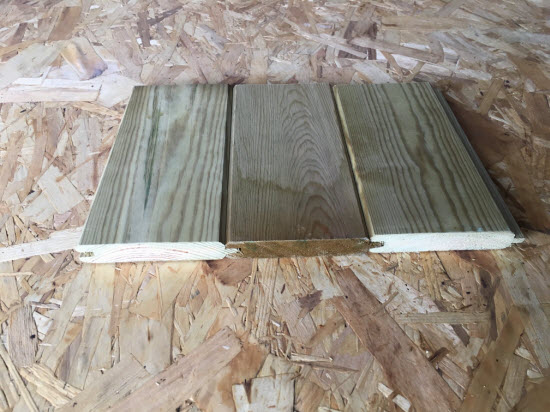 Tanalised tongue and groove cladding. The two side boards have been cut and need to have their ends protected against decay.
More durable processes have been developed than dip treatment. The process is often called tanalising or pressure treatment. This process involves putting the timber cladding pieces in a large pressure vessel, filling the tank with a preservative chemical and increasing the pressure to around 12 atmospheres. The high pressure forces the chemicals into and between the cells of the wood so that wood isn't just protected on the surface.
The depth of protection varies dependent on several factors including the moisture content of the wood, the species of wood and the chemicals used. The chemicals are a mixture of copper, chrome and arsenic (Tanalising is sometimes called CCA treatment).
Most tanalised wood is estimated to be durable in a shed cladding type location for about 15 years. When using tanalised wood if you cut the wood after it has been tanalised you may expose some of the wood in the middle of the timber that isn't protected. It is therefore necessary that you paint any cuts with a product to re-establish the protection such as Ensele or Jakcure.
10. Thermowood
Partly response to concerns over the toxicity of chemicals involved in treating timber. Thermowood has been developed in various Scandinavian countries. This treatment involves heat treating softwood timber in ovens over a relatively long period (2-3 days) at varying moisture contents.

Thermowood cladding samples. Note that in contrast to the tanalised wood thermowood is not stained green
These treatment processes have been developed by varying companies and so the details are often commercial secrets. One of the largest companies to create thermowood is Metsaa of Finland.
As well as converting the structure of the wood so that it becomes more resistant to decay and insect attack. The heat treatment also changes the structure of the wood so that it becomes more stable and resistant to thermal movement.
The heat treatment isn't a wonder cure however. Despite increasing the durability and stability of cladding timber heat treatment reduces the strength of the wood.
So Thermowood is mainly useful for cladding applications where its appearance and durability are of primary importance and not its strength.
11. Plywood
Plywood can be an excellent cladding material. It was widely used in the USA where it was known as T1-11 siding. The 8x4 plywood sheets came with the face machined to resemble planks. It was a very quick and easy way to clad a shed. Shed cladding in the US is more widely known as siding.
In recent years the plywood sheeting has been overtaken by the use of OSB.
12. OSB (Oriented Strand Board)
I have talked elsewhere about using OSB for roofing and floors. This type of board is made up of relatively short lengths of wood that are aligned and then compressed in layers using resin to bind the wood fibres together.
Plain OSB sheets do not look great for shed cladding. However companies such as LP (Louisianna Pacific) have developed a product called Smartside. This adds a surface finish to the plain OSB that gives the appearance of wood grain and planks. It is an excellent product that when painted and with sealed edges makes for very good looking sheds.
13. Decking
I only mention using decking boards as shed cladding as a couple of readers have asked me for my opinion.
Decking boards are normally pressure treated, utilise a good strength timber and are quite thick. If you were able to get them cheaply enough then they could make a reasonable cladding. But generally they would be too heavy and would also require additional machining to create the rebates so that the boards would interlock.
14. Palletwood
Palletwood is increasingly being used as a cladding for sheds. It isn't something that I would particularly recommend for outdoor use. The wood itself is fairly poor quality and not treated so the durability is something that I would question. Also it would require machining as described above to get the required overlap or interlock.
But for internally cladding a shed palletwood does have some visual attractions. It is durable internally, its variable texture and markings do give it some visual appeal.
There is a fair amount of work involved in getting palletwood ready for cladding applications. First of all you will need locate a source of unwanted pallets and transport them to a working space where you can dismantle them. Dismantling a pallet is quite an acquired skill and if you are going to take apart more than 1 or 2 then I would recommend buying a specialised dismantling bar. (see here for dismantling a pallet)
Once you have dismantled the pallet make sure that you remove all of the nails and any embedded metalwork. The final stage is to cut the pieces to a uniform width and then to the required length for fixing in place.
Summary
External cladding profiles are available in a wide range of sections. The type of section that you use is very much related to personal preference, your budget and what is available to you locally.
When it comes to the material that your shed cladding is made from I would always go for the most durable timber you can afford.
You can see two examples of shed cladding installation and shed cladding details for shiplap shed cladding and featheredge shed cladding