Replacing a broken shed skylight
by Lorilla
(USA)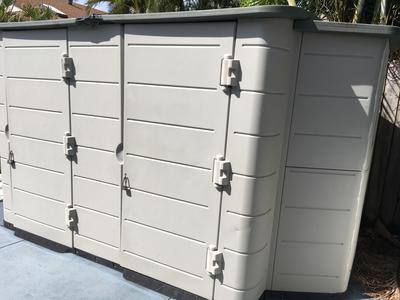 Dear John

I would appreciate any help you can give me to find a replacement skylight for my 96 x72x78 Thinking Outside shed. The skylight that I had was damaged and then blown away in a recent hurricane.

I have included some pictures of the shed and also a picture of skylight that didn't blow away

Thanking you in advance

Lorilla


Answer from John: Admin

Hi Lorilla,

Thank you for your email. Unfortunately, I can't help with getting a replacement directly from Thinking Outside. I understand that they went out of business some years ago. However, looking at the pictures that you kindly sent, it looks like you have a rectangular skylight.

You can get replacement skylight domes in acrylic or polycarbonate. They are not expensive and suppliers often make them to order. If you are choosing between acrylic and polycarbonate it is worth bearing in mind that.

Polycarbonate is more impact resistant than acrylic but you may have difficulties getting any gun type sealant to stick to it.

I would think that as it is a shed that it will only be a single, outer skin. (Domestic skylights will have 2 or sometimes 3 nested domes. This gives the increased thermal performance required for habitable properties). As this is an outside storage shed and is unheated a single dome only is required.


When ordering your new dome you will need to measure the size of the upstand that dome is fixed to. The picture below should give you some idea. Essentially you are aiming to get a dome that will just fit over the upstand on the roof. The outside edge of the dome turns down slightly at the edge (look closely at the picture). This is to protect the junction of the dome and the upstand. And also to form a drip-edge to assist with shedding water.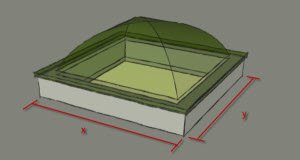 When it comes to sealing the new dome try to follow the existing method that is there as closely as possible. If they have used a foam sealant tape and screws with washers to secure the dome then use that. If they used simply used polysulphide sealant you will need to remove it before applying replacement sealant. The only method of removing old polysulphide sealant is with a sharp blade. I would recommend a chisel and methodically work your way around the outside of the opening.

I hope that this gives you some guidance on what you need.


John