The Appealing Post And Beam Shed
A post and beam shed may be just the thing to give a distinctive look to your property. This traditional construction style is what you see in homes where the timber beams are visible on the outside and sometimes on the inside of the homes. Typically constructed with heavy timber such as oak, this style of construction is classic and charming, visually appealing, and definitely built to last.
Exploring post and beam construction
Post and beam construction techniques have been around for thousands of years and have been used to build everything from large homes down to small sheds. It is a time consuming method of building and it helps to have some advanced carpentry skills in order to construct a post and beam shed. Being able to bring the timber connections together properly needs an experienced carpenter.

Known as traditional timber framing, this type of construction uses pegged mortise and tenon joints to connect the posts and beams of the frames together - the posts being vertical and beams being horizontal. Diagonal members are added to brace the frame and prevent it from racking the entire structure. Overlap joints can be used on smaller structures, they are a lot easier to cut and require less carpentry skill than standard mortise and tenon joints.
The timbers used in this type of construction traditionally are hewn and sawn timbers that are rough and rustic looking. The technique of scribing was used, meaning every square timber was numbered and could only fit in a certain place in the building framing, sort of like a jig saw puzzle. Square rule was adopted in the 18th century and that allowed for the main beam timbers to be interchangeable at the braces and girts, making it quicker and easier to get the building constructed.
Traditionally the walls were plastered and the insides finished off with wattle and daub. This is why in many historical homes and buildings built with post and beam construction the timbers can be seen inside and out.
Building your own traditional timber framed shed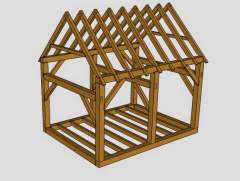 If building a post and beam shed from scratch seems a bit overwhelming then don't worry, there are kits available that you can use to build your shed. The kits provide you with everything you need to construct your shed using the post and beam method without the need for cutting, shaping and fitting. Everything is already pre-cut, pre-shaped, and fitted. Following the directions, you fit the pieces together, secure them with the traditional wooden pegs and finish it off based on the directions for doing so.
Final thoughts
Post and beam sheds do not have to be limited to one storey. They can be two storey affairs with a loft and construction is a bit more challenging. The beams of the second floor almost always overhang that of the first floor and the shed is given a very recognizable and classic look. Even if you don't have a post and beam built house, a shed of this type can finish off your garden very nicely. Functional, and well-built, the mortise and tenon joints use only natural hard wood material, making it very long lasting.
Post and beam sheds are the perfect option if you are looking for something with serious longevity.