Overcoming Shed Building Problems
by John
Rome wasn't build in a day.

The course of true love never runs smooth.

You could add to these tried and tested sayings; If you build a shed you will encounter problems.

For most people building a shed will be a one-off project. Starting from zero knowledge, learning about the task they are about to undertake and finally ending up with a serviceable storage building.

During the course of the project you will inevitably encounter problems as part of the learning process. Mistakes will be made and overcome. To illustrate this point I wanted to highlight a project undertaken by a reader of this site Ron Clemens.


During the summer I received this question in my email from Ron
Ron Clemens lives in Saskatchewan, Canada and had reached the point in his project where he was ready to install his shed windows.
"Dear John
I'm fairly new at wood-working, and recently started building a shed. I planned on using a 20" x 30" Prestofen slider shed window, and upon asking a "window expert" at Home Depot how big to make the rough opening, he assured me it should be 20" x 30".

I didn't buy the window at that time, but went ahead and framed the shed wall according to this specification. I reached a point in construction where I was ready for the window installation, and so went back to Home Depot and purchased the window. Assuming that the outer "flange" of the window would mount flush against the exterior wall sheathing, I was disappointed to discover that the actual outside dimensions of the window are less than 20" x 30", making the entire window smaller than the rough opening."
We exchanged a few emails to discuss the problem and Ron continued with the build.
It was great therefore to receive this update earlier this week
"For the window blunder, I ended up building up the window framing, then re-sheathing that part of the wall and cutting the rough opening to the correct size. It all worked out in the end. I was able to find some recycled cedar siding for the exterior, which I liked since it was an environmentally conscious choice.

As the building of my shed progressed, it came to be known in my eyes as "the monument to my incompetence"...hehe! But then again, maybe if other people see that a completely clueless rookie can stumble through and end up with something acceptable, they might be inspired to take the task on themselves."
I was interested to see how Ron's shed building project turned out
Ron was kind enough to share some pictures of his shed build and I think that you will find them very interesting.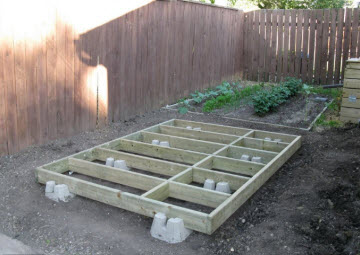 Nice shed solid foundations and floor construction



First shed side wall in place and temporary braces in position until other walls are completed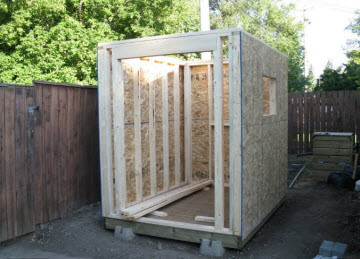 All four walls in place, temporary bracing no longer required



Structure of shed roof in place. Roof is supported on a central ridge beam.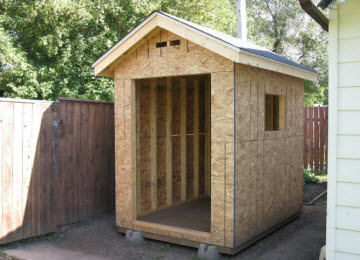 The structural shell of the shed is complete and ready for housewrap



House wrap applied and ready for installation of trim and siding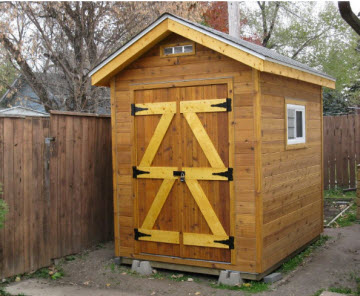 The completed shed – a job well done!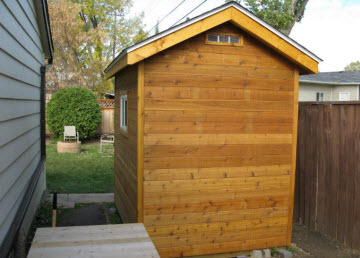 Close up details of shed siding at the back of the shed

I think that you will agree that is a great result a fine looking shed that I am sure will last through many Canadian winters.

One construction saying that I would like you to remember as you progress through your project is that 'The job always gets built'.

I have come across this saying on construction sites wherever in the world I have worked. As you work through your shed building project I think that you will find it as true for Ron as it will be for you.


What problems did you overcome during your shed building project?
Please share your experiences in the comments box below