Frequently Asked Questions about Moving a Shed
by John Coupe
(Admin)
Moving a Shed FAQ – I get asked a lot of questions about Moving Sheds and so I have pulled together a lot of these onto one page for you to browse. Hopefully, you can find an answer to your question in amongst these.

If not please visit my Shed Questions page and ask away.

My only request before you do this is to take the time to submit several pictures and write a good summary your problem. I am keen to help but if I just get a one-liner saying - "I need some help with my shed roof!" it takes a lot longer to help you get to the root of the problem and find a solution.

I look forward to hearing from you if you don't find an answer to your question below:
Return to Questions on moving a shed.
Moving a Shed Using Trailer Jockey Wheels
by Dave
(Lancashire)
I moved my 12x8' heavy wooden shed some 10 yards using 4 jockey wheels with 6" tyres that cost GBP55.00 (USD83.00 including shipping on eBay).

I attached the jockey wheels in each corner using strong right angle plates. Together with friends we lifted all 4 corners of the shed at the same time turn by turn and simply wheeled the shed over a lawn and driveway to the new base.

It was so easy, one of my friends also used the jockey wheels and plates to move his workshop and re-sold the full kit on eBay for the same as it cost, so it only cost the eBay selling charges.


Moving a Shed on Snow Skis
by Tireguy
I once moved a 12 x 16 Shed that had a wood floor in it. I was in Wasilla Alaska. I wanted the shed moved & thought in summer it would fall apart trying to move it. I jacked it up with a Handyman Jack little by little until it was about a foot off the ground.

I put two Large 4x6 post under it and used Lag bolts to hold the Post's to the floor and then bought old snow skis and screwed them to the bottom of the post. Waited for a good snow then my Buddy used his 4x4 truck pulling & I used my old plow truck to push.

We moved it a good distance to the other side of my property. Jacked it back up pulled the skis and post off then set it on cinder blocks. Worked well.

Good idea in Cold snowy areas.
Return to Questions on moving a shed.
Moving a storage shed on a hardstanding
by mike
(san dimas ca)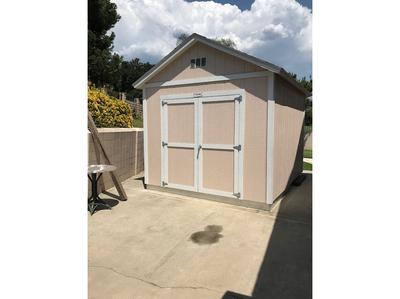 10x12 Tuff Shed on hardstanding
Hi John, I have a 10x12 Tuff shed that is built on a level concrete hard-standing. The shed has a floor/base is made of metal joists with a plywood deck and the rest of the shed is built of timber with Smartside type siding.

I want to re-organise my garden area and to do this I need to rotate the shed through 90 degrees and move it over by about 3 feet. The shed will be on the hard-standing all the time.

My problem is how to initially lift the shed so that I can get something underneath. Or do you have any suggestions as to companies that could do this sort of work?


Johns Suggestions:

Hi Mike,

Thanks for the pictures. ;-)

I can think of a couple of ways of lifting the shed so that you can move it.

The least intrusive way would be to construct a timber collar around the base of the shed and beneath the shed walls (I assume that the shed base is positively fixed to the rest of the shed?). Then you could bolt something to this collar to enable you to lift the corner/end of the shed and get some rollers underneath it.
Alternatively fix a trailer jockey wheel to the upright at each corner as this reader describes.

An alternative way would be to remove some of the cladding/cut a hole in it at the corners so that a timber beam could be passed through from one side to the other and fixed to the frame (you would need to locate suitable fixing points). With this done at each end, the shed could then be lifted up on to rollers or trailer jockey wheels as the previous idea.

With regards to suitable companies who could do this. I would take these thoughts along to a local builder. They are experienced in doing the sort of work outlined above, though they might never have done one quite of this type!

I hope this helps and I look forward to your thoughts on these suggestions.

Return to Questions on moving a shed.
Relocating a shed
by Mel
(Dover, AR)
I live at a rent house with no storage. I have at least 160 sq ft of stuff in a portable container at my house (costing me over $80 a month). I want at least the 160 sq ft (really need a bit more) If I build it I want to be able to move it or sell it to someone when I move, if I move etc. etc.

What is the largest size you would recommend for building and then being able to move it later to another location?
Moving a Big Max shed
by Gail
(Westminster, MA)
Could anyone tell me if it is possible to transport an assembled (empty) Big Max Rubbermaid 7x7 shed from one property to another without taking it apart? I will be moving and do not want to part with the shed. Thanks in advance.
Lifting a shed
by Jo
(Rock Island, IL)
Our shed was located by the previous owner in the drainage of our acre yard. It stands in water every spring or during rainy periods. Therefore, it is starting to rot away. It has a plywood skid floor and is about 15 X 12 in size; wood frame (appears sound) covered by 4X8 siding panels (two of which are rotted and need to be replaced soon)

I would like to know if a heavy car jack can lift the shed so I can put concrete blocks underneath to remove it from the water. Any suggestions are welcome. THX!!
Moving a big shed a few feet
by Brian J Landsberger
(Las Vegas, NV)
We have a 13 x 28 ft wood frame shed on a flat slab that we need to move three to four feet to comply with code setback rules. The direction of move is parallel to the short side. Is it possible to pour a slab extension and slide the structure onto the new slab? I understand that the old hold down bolts must be cut off at slab level.

If it is possible what tips do you have to keep the structure from warping, cracking or bending and what machine or tool to use to move the shed. Also any techniques to make the sliding as easy as possible such as slipping lubricated strips of metal under the bottom 2x4s. Who would you call to do the work?
Taking down a metal shed
by Angela
(Las Vegas)
I want to take down a built metal shed at one property and rebuild it at new house. Any certain steps to follow?




Answer By John-Admin:
Hi Angela,
Thank you for your question. Depending on how long the shed has been up you may have your work cut out! In my experience after metal shed have been up for a while the metal bolts and fixings that hold them together corrode and they become difficult to remove without cutting them which brings with it the possibility of damaging the metal skin which forms the shed.

Assuming that you can remove the bolts successfully I would find a copy of the manufacturers instructions and follow them in reverse. So normally this would be starting with the roof and working your way down.

Depending on how far you are to move it there is always the possibility of moving it without disassembling it. The best route for this is normally a strong man at each corner!

I just saw that you are from Las Vegas, given the dry atmosphere there due to altitude and desert location the corrosion may not be too bad.

let me know how you get on. A photo or two would help to see the problem more clearly.

All the best

John