Planning Your Lawn Mower Storage Shed
Tips on planning your lawn mower storage shed and maintenance area by
Martin from lawn tractor buyers guide.com
A lawn tractor or riding lawn mower storage shed is likely be an essential purchase or DIY project if you don't have room for your machine in a garage or other outbuilding.
It is surprising how often people forget about the question of storage when thinking about investing in a lawn tractor or riding mower. If you are potential lawn tractor purchaser, you'll probably be asking yourself things like 'what size engine do I need?' or 'what kind of transmission system is best?' - both eminently sensible questions, of course.
But, if you don't also think about where you are going to keep your machine, you could end up with thousands of dollars worth of equipment sitting outside with nothing for protection but an ill-fitting tarpaulin flapping forlornly in the wind.
So, now that I've got you thinking about it, what are the key points to consider when planning your lawn tractor or riding lawn mower storage solution? You'll find tons of advice elsewhere on Secrets of Shed Building that will help you decide on things like foundations and roofs but here I highlight some particular lawn tractor related issues that you ought to have in mind.
What size should I build my lawn mower storage shed?
This is the first question to ask yourself and probably the most important one because a lot flows from it. Once you work out how big your tractor shed needs to be, you can then plan where to locate it and begin to assess how much it is likely to cost you.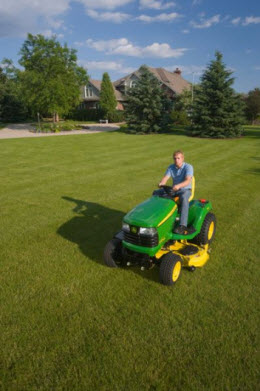 John Deere X749
Ride on mowers vary a lot in size. Probably the most compact (and cheapest) machine on the American market is the Weed Eater One riding lawn mower. This is less than 32 inches (81.3cm) wide, which means it will fit through most ordinary garden gates.
In contrast, the X749 lawn tractor from John Deere's X700 Ultimate Series is more than twice as wide, at 64.5 inches (163.8 cm). Incidentally, the X700 will set you back about $14,000 so you would definitely want more than a flapping tarp to protect one of those if you were to buy one.
So, obviously, you need to ensure that the lawn mower storage shed is a suitable size to accommodate your current or intended lawn tractor or riding mower. But also bear in mind that if there is a chance that you might upgrade to a bigger model at some time in the future, you would be well-advised to make allowances for that as well.
You should also consider whether you have, or are going to purchase, any lawn tractor accessories or attachments that will need to be stored in the shed. This can make a big difference to the size required. Take a look at Simplicity attachments to get an idea of what you might need to plan for.
Finally, decide whether you need any shelving or storage space for tools, spare parts etc. and allow enough room for those too.
Storage or workshop?
Even if you only intend to use the lawn mower storage shed for storing your machinery, you should still ensure that you design in enough room around the lawn tractor so that you can comfortably get on and off and carry out any necessary inspections and simple maintenance tasks.
If, however, you want to carry out more substantial maintenance tasks inside your shed, you will need to:
Make sure there is enough room to manoeuvre a jack or lawn tractor power lift around the shed, as you will need to get to the blades, belts and other parts underneath the tractor.

Perhaps even think about incorporating an inspection pit in the floor. While this involves more initial effort it will be safer and allow for some size savings.

Install power for your tools and for lighting. Ensure that the lighting is good enough to enable you to work comfortably and safely at all times.
Surroundings
If you are going with the simple storage solution, you will ideally need an area of hard standing outside your shed because there will be times when you'll need to jack up your machine for servicing, blade and belt changes and so on.
Also, locate your shed where there is room to turn your lawn tractor around and to easily manoeuvre it in and out. Take into account the characteristics of your machine. Some of the best lawn tractors can turn much more tightly than others.
Points to take away
As with any shed building project, work out in advance what you want to use the shed for and plan accordingly;

Make sure your lawn tractor shed is big enough to accommodate any future upgrades and/or any lawn tractor attachments or accessories that you have or may obtain in the future;

A lawn tractor or riding lawn mower storage shed should be located where there will be no access problems and ideally where there is some hard standing outside or nearby.