Use A Japanese Garden Shed to Add Some Oriental Style to Your Garden.

A Japanese garden shed could provide that finishing touch for your Japanese style garden, even if you weren't consciously attempting to make it a 'Zen' garden. Japanese gardens place great emphasis on balance and the significance of natural elements such as rocks and water. The result tends to be exotic while at the same time harmonious and soothing.
Three options from simple to authentic
As with all garden sheds, you have a choice how much effort you want to put into the construction of a Japanese style shed. There are several options you have right from the outset:
The first is to take plans for a traditional shed and re-work certain elements to make it more oriental in appearance. These efforts can look somewhat tacked on in a garden that has otherwise been specifically designed to be authentically Japanese in other elements. However in a less planned garden where simply the feel is important, this method can be the most cost and time effective.

The next alternative is to create a basic shed and then do a complete overhaul of the exterior to make the shed resemble a Japanese tea-house. This facade is probably the preferable method to use to combine security and stability of structure with an impressive appearance.

The third option, for the committed builder and carpenter, is to use tradition Japanese carpentry methods to build the entire structure from scratch. There are many resources available on Japanese carpentry to aid those who want to pursue this course, if you want to know how to build a Japanese style shed then you can take into account some of the general advice from the Building a Garden Shed article available here. Also keep in mind that openness and space feature largely in tradition Japanese architecture. Depending what you store in your shed, security may be an issue if you end up with too many windows, entrances and exits for your own peace of mind.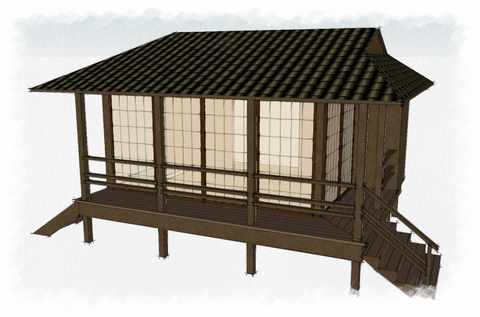 Notes on Japanese Shed style
The two most notable features of a Japanese garden shed are the windows and roof:
As I mentioned here roof design will go a long way towards defining how authentic and original your Japanese garden shed looks. The basic roof comprises a series of ridged tiles, the front most ones overhanging the roof edge. From this relatively easy beginning you can add many different structural elements, depending on whether you want a simplistic or ornate look for your new Japanese shed. The most common elements you should consider adding are roof end tiles, or 'onigawara', which can either be scrolls or shaped in the form of demon faces.
As to the windows, the most common type of windows are those in the Shoji design. This grid-like style can be used for sliding doors or windows and can be done in either paper (for the strict traditionalist) or glass.
As far as materials go, you will probably want to stick with wood. While wood can have it's disadvantages in terms of needing to be treated regularly and being susceptible to rot in the long-term, plastic or metal sheds will probably not achieve the type of look desired and would clash with the natural feel you are attempting to achieve in your Japanese garden. The roofing materials traditionally used would be clay or wooden tiles, (Click here for more on Shed Roofing) though you may find that there is more scope here for the use of synthetic materials while retaining thematic integrity.
Creating a Japanese style garden is easier today than ever before with the wealth of information available to help out beginners, both in print form and online. Building a Japanese garden shed, in whichever way you choose, can be an enjoyable experience which adds to the individuality of your garden design.