Porch Shed Design competition - The winners
A big thank you to everyone who took part in The Porch Shed Design Competition. The quality and depth of entries was amazing. I wish I could afford to give many more prizes than I do, one day perhaps!
I am very grateful to LP Smartside, the sponsors of the tech part of the prizes. How many competitions do you come across where the prizes increase during the competition? If you are building a shed I recommend that you investigate the LP Smartside option, speaking of which there is a new shed siding section within secrets-of-shed-building that is growing to help you do just that!
Moving on to the judgin part of the competition thank you to Alex Johnson who did a great job selecting a wide ranging panel of judges. (Just a quick plug here for Alex's book "Shedworking - the new workplace revolution" which is out on general release at Amazon from today). And also a big thank you to our three judges, Justin Anthony, Su Butcher and James Alexander-Sinclair from the three separate disciplines of Design, Architecture and Garden Design - all related in some way to sheds.
The comments and discussion surrounding the entries was also something to behold. There was a mixture of general encouragement from interested friends and relations as well as some great constructive and friendly exchanges between the contestants. A good example was here between CJ Hold, designer of the Zen shed and BY Baran, designer of the Serender Shed. Also for the first time in these competitions we went multi-lingual with enthusiastic support in both French (The Portic Shed) and Serbian (The Art Shed Part2)!
So now on to today's stars, the top three sheds.
I have purposefully stayed away from choosing an overall winner, as it fits in the category of "too difficult"!
Each of the judges selected a winning entry and then two other runner ups, none of the judges top three picks overlapped, which says a lot about the high standard and variety of entries which were submitted. If you did not win a prize this time around then do not be discouraged, we value every entry and I hope you learn something from the discussion and feedback. Please return and take part in future competitions.
I hope that I have not gone on too much before announcing the winners it is just that I really do appreciate your efforts and hope that you look forward to taking part in future competitions.
One last item before announcing the winners is a sort of acrostic poem from Abbie Cowdery a supporter of the Water|Shed:
Wicked
Heaven
Attitude
Tremendous

Ambitious

Green
Realistic
Eco-friendly
Affective
Talented

Sustainable
Healthy
Environmental
Desirable


At last.... The Winners!
The Designers choice - Justin Anthony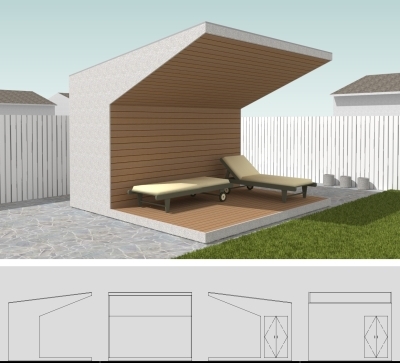 "A porch is an expansive covered area where people gather to congregate and relax. This fits the bill. Wide open, yet with proper overhead protection. Double the width of the shed, and you've got a superstar."
The Architects choice - Su Butcher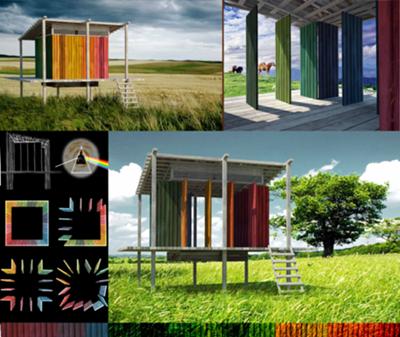 "This is the ultimate porch shed - it can be all porch, and through a simple idea has flexibility and great beauty. In some ways it takes the Evolutionary Shed type concept and executes it.
Lovely. Don't know where I'd put my tools but who cares?!"
The Gardeners choice - James Alexander - Sinclair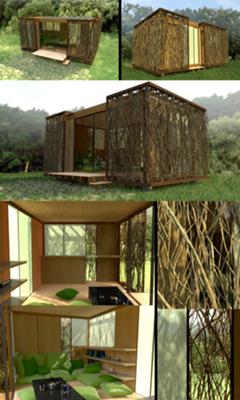 "I loved the idea of covering the outside with branches: a cross between a birds nest and camouflage. Amusing and practical. Although it specifies that it is for sub-tropical climates I think it could be easily adapted to suit anywhere in the world."
If the designers of each of the winning three sheds can contact me I will arrange to get your prizes to you as soon as possible.
Until next month, all the best.
John