Sliding Shed Doors
Sliding shed doors are often used because they are economical on space. Large openings can be secured without the requirement for a large area to accommodate the swing of the door. One slight draw back that people have found is that it can be quite inconvenient to open such a large door if they just want to get in out occasionally. To overcome this many doors have a smaller hinged personnel door incorporated which can be opened independently of the main door to allow easy everyday entry.
I have brought together a small collection of pictures of shed doors that slide to give an idea of the different combinations that you can use.
These shed doors provide a secure opening without obstructing the external access.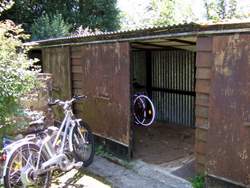 Sliding doors to this bike shed give very efficient use of space.
These doors can open without compromising internal space or opening outwards to obstruct the road.
Sliding doors can be divided into two categories:
Weathertight For a home office or recreational shed, sliding doors made of glass can be made using a patio type door, this makes internal space very light and connected with the out doors.

Non-weathertight More common on storage sheds, where getting a good draught-proof seal around the door perimeter is not so critical.
The doors are normally hung from a beam with rollers inside a door track or on top of it. The sliding door can be either hung internally or externally.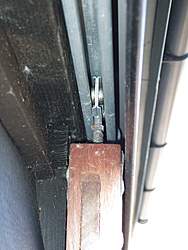 Externally hung doors have the advantage of not taking up or disturbing the internal wall space, however it is also desirable to protect the rollers and rail from weathering (see protected photograph).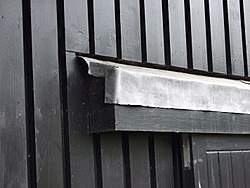 Weathering detail to externally hung sliding door, using lead flashing.
Close-up of shed doors. As the doors are externally hung weathering protection has been installed to protect the top hanging rail.
Internally hung sliding doors do intrude slightly, have the advantage that the top track is protected from the weather and that the bottom track is less likely to collect debris causing damage to the bottom rollers.
Points to consider when choosing sliding shed doors:
Door weight - make sure rollers are strong enough.

Make sure supporting beam is strong enough; a beam that deflects will cause the door to jam.

Save on door weight by using aluminium sliding rather than heavyweight timber.

Shed sliding doors need a width of wall to accommodate the open door, therefore they are normally in the long side of the shed as the gable end is too short.

The recommended maximum length of a sliding door would be in the order of 6 m. This does not mean that longer lengths cannot be made only that they should be broken down into more manageable.
The following pictures show the possibilities for splitting doors when a panel size becomes too large.
This picture shows a single door.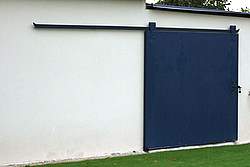 This picture shows double doors.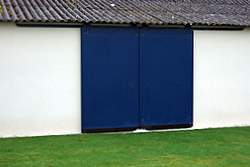 In the US, Better barns and Rockler have more architectural style sliding door gear. The best value place to find this equipment in a cheap and rugged form would be through a farm supply store. This type of door is used extensively on farm buildings, and as farmers are pretty cost conscious folk you should find them at a good price too.
In the UK a couple of manufacturers who make/supply the more industrial sliding shed door gear are Henderson and Helaform (their UK distributor is Barrier Components Ltd).