Using decking boards as shed siding
by John R
(UK)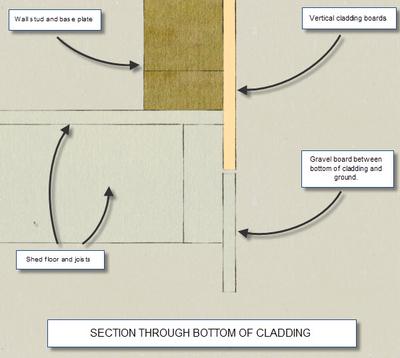 Using Decking Boards instead of T&G or Feather edge timber

We are considering using decking boards to make our shed - is there an issue with this? Have scoured the Internet for advice but the can only find info for Tongue and Groove and feather edge boards.
Also, my husband is planning to fix them vertically, rather than horizontally; is there a reason timber tends to be fixed horizontally?

Answer:

The sketch below should answer the first part of your question. The purpose of the profile of feather-edge, shiplap and tongue + groove cladding is to act like overlapping fish scales and not allow water to accumulate on the outside of the shed. As you can see from the right-hand image when square edged boards are fixed horizontally the provide a ledge where water and moisture can stay. This eventually will lead to the boards decaying.



For the second part of your question. There is no reason why the boards shouldn't run vertically. In contrast to the first part of the question. When the board run vertically there is nowhere for rainwater to collect. This is good.
The gaps between the boards need to be waterproofed in some way. This could be a timber batten nailed on top of the gap between the boards to block wind-driven rain. Or it could a breathable membrane behind the cladding line, as on the image below.
Most commercial sheds have horizontal cladding for the simple reason that the main structural components of the shed wall run vertically. The easiest and cheapest, way to fix cladding is to run it horizontally. However, if you are building your own shed and already have the decking boards then fixing some noggins between the studs to enable you to get the effect you want will only take a small amount of extra time and the cost will be tiny in the scale of the project.
One detail to be aware of is the detail at the bottom of the shed wall. The vertical board should overlap the floor to keep this area waterproof. But stop the boards short of the ground and use a 'gravel board' to fill the gap between the ground and the bottom of the boards. The reason for this is that the internal structure of timber is like a bundle of tubes. If this is in contact with the ground or near the ground it will 'wick' up and hold water. Over time this will initiate rot in the bottom of the cladding. The way I have shown is to have a horizontal gravel board which can be replaced every so often, just like a cars tyres.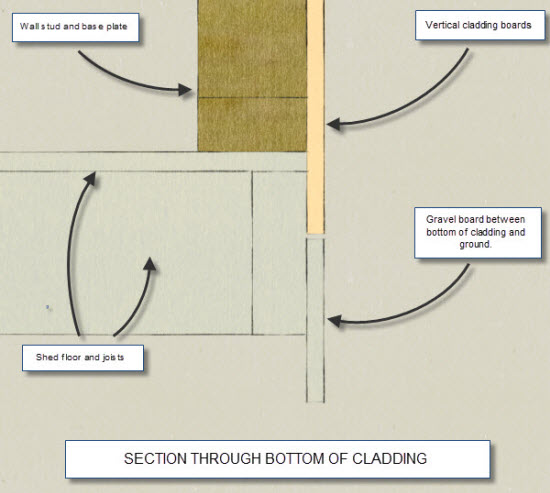 I hope that this helps.

Regards

John