A Shed Video To Get You Motivated For A Spot of Shed Building
I get asked occasionally "How long does take to build a shed?"
The answer is as long as a piece of string. They key things to consider are to get the site prepared, the materials together and some helpers to get the project moving.
This video shows that if you move fast it can take just over a minute. Especially when you get the dog and cat involved!
Are you looking for a way to easily find out more about shed building?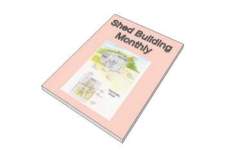 Do you want an easy, simple way to learn more about building sheds?
Keep up with the top answers and tips to shed building questions from our Mini-forum.
Would you like a FREE, downloadable, virtual shed?
If you answered Yes! to any of these questions then pop your contact details in the box below to keep updated with all the latest from this site.
Once a month, on the first of the month.
Your email address will be kept confidential and won't be shared.
Easily unsubscribe at any time. I hate Spam as much as you do!