Shed Building Monthly Issue 12
August 2009
We won an Architectural Design Prize! Following all the great suggestions you made to my garden office design last month, the revised garden office design won a prize! You can see the revised entry here and see the announcement at the Shedworking site. This marvelous success is all down to some great suggestions that you have made.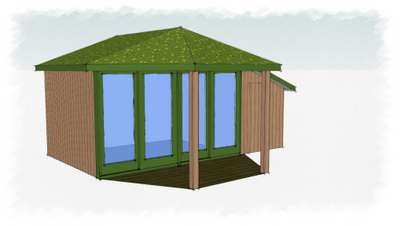 I need your help!
One thing that struck me following all the suggestions I received about the garden office design was how much knowledge and experience you all have. It struck me that if I am the only one doing the talking here things could get a bit boring! So I have tweaked the format yet again to make it easier for you to add your comments and contributions
Each month I will get the conversation started with some suggestions and then please pitch in. It's possible to put your comments at the bottom of this page. Tick the box so that you get notified as others contribute and this page functions a bit like a forum thread for this month's issue of Shed Building Monthly.
I'm sure we would all like to hear from you and get your life experiences. In fact, I'll bet you've got some great tips that will help us all. Don't be shy. We won't bite!
Using recycled timber to build a shed
To get things going this month, what are your opinions and experiences on using of recycled timber to build sheds?.
Whilst building my sheds I have used varying proportions of recycled timber in all of them. The important thing for me about using recycled timber was that it helped keep the construction cost down. Many people also use recycled timber to reduce demand on the environment and also just because well chosen recycled timber can look great.
Buying recycled timber often isn't too great an experience as the merchant often prices the timber at a high percentage of what it would be new. The quality of the timber also needs to be considered has it got splits and shakes in it (these may be desirable) has it got nails or metalwork in it that could damage your woodworking equipment.
The best sort of timber is the totally free variety, however, this normally only comes along when you don't need it! But it always pays to keep an eye open!
Here are a few of the places I have found useful timber.
* A local garden centre had some Christmas tree packaging. This was planed 20 mm by 75 mm and in eight feet lengths. To use this for the framing of the shed I screwed two pieces together to make a sort of 4x2 for the frame.
* I used to work at a company that supplied concrete formwork to construction companies they were about to burn some surplus beams and plywood until I got my eye on it!!
* As I was leaving a country pub one evening I spotted many usable lengths of 6x2 timber in the woodpile. I asked the landlord and he said to take as much as I needed. I used the timber to support the floor to my latest shed in the picture below.
Comments for this months issue -
* What experience have you got of using recycled timber for using sheds or other things?
* What would you like to see in future issues of Shed Building Monthly?
The lines are open!