sheathing and vinyl siding starting location
by Dave
(New Jersey)
I understand that the vinyl siding will cover the sheathing and come down as far as the sheathing on the sill plate. Can you tell me how far down the sheathing should come down on the bottom sill plate? Can I just start the sheathing where the bottom plate is or do I need to cover the sill plate or at least some of the sill plate with the sheathing and the vinyl siding?


I am building a shed and I want to have 8-foot walls. I could not find any plans for a shed with 8-foot walls and vinyl siding so I am modifying the plans that I found for a 7-foot shed with t111 wood siding. I am using 2 x 6 pressure treated sill plates and I am trying to determine where to start the sheathing. Since the sheathing comes in 4' x 8' panels if I start the sheathing over the sill plate then should I cut a small piece of sheathing to compensate for the lowering of the full panel on the sill plate? If so where should I install the small piece of sheathing?
Answer: From John - Admin
Hi Dave,
Thanks for your question.
I think that a picture is worth a thousand words so I hope that the sketch below answers your question. The sheathing should be continued over base plate and the sill plate. This protects the sill plate from water and sunlight for long-term durability. The vinyl siding will be started with a starter strip or a starter strip and metal flashing (dependant upon the system that you use) right at the bottom of the sheathing. Make sure that the bottom edge of the sheathing is protected as this is an area that water can collect and rot the sheathing if not installed as per the system specification.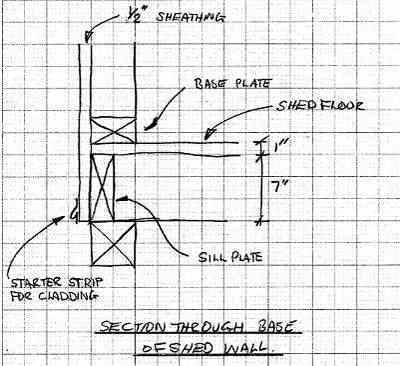 With respect to the wall height, with this arrangement, you will get a wall height of 7' 5" using the standard 8' sheet. If it is absolutely critical that you achieve the 8' wall height then you will need to have some 7" strips at the top. The joint between the two sections of sheathing should be backed by some noggins as shown on my second sketch to provide some support to the sheathing.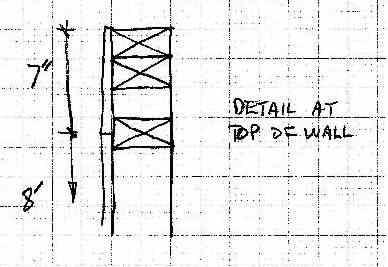 Let me know how you get on, more questions welcome as usual and progress photos are always welcome.
Regards
John ;-)