Moving a storage shed on a hardstanding
by mike
(san dimas ca)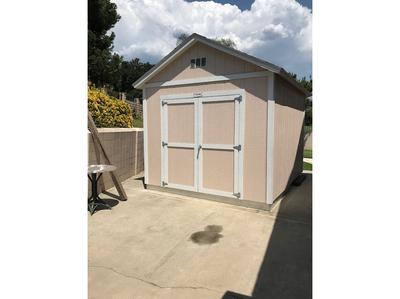 10x12 Tuff Shed on hardstanding
Hi John,


I have a 10x12 Tuff shed that is built on a level concrete hard-standing.
The shed has a floor/base is made of metal joists with a plywood deck and the rest of the shed is built of timber with Smartside type siding.
I want to re-organise my garden area and to do this I need to rotate the shed through 90 degrees and move it over by about 3 feet. The shed will be on the hard-standing all the time.
My problem is how to initially lift the shed so that I can get something underneath. Or do you have any suggestions as to companies that could do this sort of work?
Johns Suggestions:
Hi Mike,
Thanks for the pictures. ;-)
I can think of a couple of ways of lifting the shed so that you can move it.
The least intrusive way would be to construct a timber collar around the base of the shed and beneath the shed walls (I assume that the shed base is positively fixed to the rest of the shed?). Then you could bolt something to this collar to enable you to lift the corner/end of the shed and get some rollers underneath it.
Alternatively fix a trailer jockey wheel to the upright at each corner as
this reader
describes.
An alternative way would be to remove some of the cladding/cut a hole in it at the corners so that a timber beam could be passed through from one side to the other and fixed to the frame (you would need to locate suitable fixing points). With this done at each end the shed could then be lifted up on to rollers or trailer jockey wheels as the previous idea.
With regards to suitable companies who could do this. I would take these thoughts along to a local builder. They are experienced in doing the sort of work outlined above, though they might never have done one quite of this type!
I hope this helps and I look forward to your thoughts on these suggestions.