How to secure double doors on a shed
by Shirley
(Tifton, GA)
I have a large outside storage building with 2 doors which meet in the center. I need a lock which cannot be opened by crooks.


Answer:
Hi Shirley,
The locking arrangement for a double door is as in the sketch below.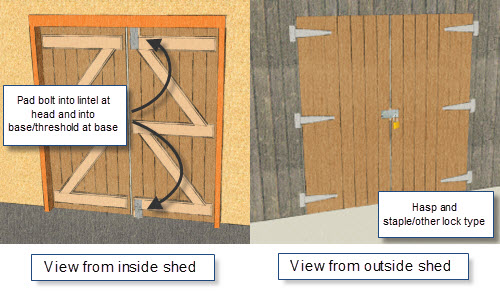 Locking arrangement for double doors




One of the two doors has a pad bolt top and bottom. This secures the door into the threshold at the bottom and the lintel at the top. These can only be opened from inside the shed. The other door then has an outside lock which can be anyone of these solutions :

1. Rim lock
2. Pad Bolt
3. Hasp and staple
4. Door bars

Each of these options are discussed further on this page about shed door locks.

Regards

John

Join in and write your own page! It's easy to do. How? Simply click here to return to Shed Door Questions.