Hanging a Shed Door
by Joe
(Cork, Ireland)
My father has asked me to build and replace his shed door as it is falling apart and not fit for purpose. The current door is inward opening and therefore does not keep water out. I want to change it to an outward opening door.


The shed is built out of cavity block and I'm looking for advice on hanging the door. If I attach a 4X2 frame will that suffice to hold the door? And is it ok to bolt the 4X2 frame into the block?
Any advice would be very much appreciated. The dimensions of the opening are 33" X 71".
Answer:
Hi Joe,
I have sketched out a typical detail through a door jamb in cavity masonry (this goes a bit beyond my normal remit of just dealing with timber sheds. ;-)).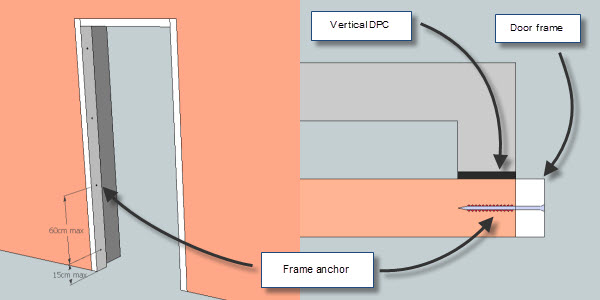 General arrangment of shed door frame and section through door jamb showing fixing

Traditionally door frames were fixed in place using built-in frame cramps. However, with modern fixings, you can secure a timber frame with 'frame anchors' comprising a plug and screw. The zinc passivated screw is typically 150mm long. Anchors are fixed at a maximum of 600mm centres and within 150mm of the top and bottom of the door.

I don't know the detail of your cavity wall at the door jamb. But you should at least have a vertical DPC to stop damp penetrating. Preferably a properly insulated cavity closer would prevent a cold-bridge forming, but probably a bit too much to hope for with a shed.

I also don't know what strength of block you are using but have a look. The type of frame anchor you use might have specified edge distances. Also, a hollow block would require a different type of anchor.

I know that there are a few more questions here but it should give you something to get your teeth into.

Cheers!
John