zen shed
by Curtis Hold
(Glasgow, Scotland)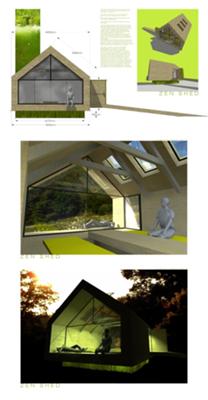 THE DESIGN PROCESS BEGAN BY DISTILLING THE KEY


SUCCESSES OF THE SHED AS A BUILDING FORM, AS I
SEE THEM. - ITS ABILITY TO:
INSULATE THE OCCUPANT(S). TO ALLOW THEM TO
ESCAPE INTO THEIR OWN PARTICULAR WORLD
&
ENCOURAGE THE OCCUPANT(S) TO RECONNECT WITH
THE NATURAL ENVIRONMENT
THE NEXT STEP WAS TO SEE HOW FAR BOTH COULD
BE PUSHED!
TO ENCOURAGE ESCAPISM, FEELINGS OF PROTECTION
ARE FOSTERED THROUGHOUT. THE SHED IS LIFTED
OFF THE GROUND WHILE A LARGE MONOLITHIC PROFILE
- FORMED FROM CLADDING STRAW BALES AROUND A
TIMBER FRAME - REINFORCES THE IMPRESSION OF
SOLIDITY. EVEN THE DOOR IS DESIGNED TO MAINTAIN
THIS COCOON PERFECTLY WHEN CLOSED.
THE MATERIAL PALETTE IS UNDERSTATED, WHILE THE
CONSTRUCTION ENSURES THE SPACE IS EXTREMELY
QUIET. - ALL OF THIS ALLOWS FOR THE OCCUPANT(S) TO
ESCAPE INTO THEIR OWN WORLD/THOUGHTS WITHOUT
DISTRACTION.
THE DESIGN IS SHOWN HERE IN A COMMUNAL SEATING/
DINING SCENARIO, BUT ADAPTATION IS A KEY FEATURE OF
ANY SHED - AND OTHER SPIRITUAL PURSUITS SUCH AS
READING, BATHING, CONTEMPLATION - ARE JUST AS VIABLE
A USE OF THE SPACE. A CHURCH FOR ALL FAITHS.
WITH TIME, THE MAIN FOCUS OF THE BUILDING
BECOMES CLEAR - TO AMPLIFY THE NATURAL
ENVIRONMENT WHICH THE SHED 'COHABITS'.
THE SHAPE OF THE BUILDING FRAMES & MAGNIFIES
PARTICULAR VIEWS OF THE GARDEN - IN THE FASHION
OF A HOLLOWED OUT TREE TRUNK. THE BUILDING IS
DESIGNED TO BE ENTERED ON THE NORTH FACE, WITH
EAST/WEST VIEWS FOR SUNRISE/SUNSET & 3 SOUTH
FACING SKYLIGHTS GIVING A RANGE OF DYNAMIC &
INSPIRING LIGHT QUALITIES THROUGHOUT THE DAY.
NATURAL BUILDING MATERIALS - STRAW, TIMBER - ARE
USED EXCLUSIVELY WHILE THE BUILDINGS FOOTPRINT/IMPACT ARE SOFTENED BY LIFTING IT OFF THE GROUND. INDEED THIS
700MM SPACE AROUND THE BUILDINGS PERIMETER IS
STRONGLY ENCOURAGED TO GROW WILD - TO BLUR
THE THRESHOLD OF SHED/GARDEN AND TO CREATE A
SUB-HABITAT FOR THE PLANTS/ANIMALS OF THE GARDEN.
THE CANTILEVERED OUTSIDE SPACE AND OVERHANGING PORCH ROOF FURTHER ENCOURAGE THE OCCUPANT TO INTERACT WITH THEIR GARDEN WHATEVER THE WEATHER,TIME OR MONTH OF THE YEAR.