X CUBED: Re-Examining the Cubicle
by Aaron Anderson
(Urbana, IL)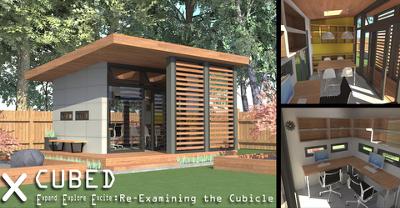 X CUBED: Re-Examining the Cubicle


Expand
Expand the perception of an office.
Explore
Explore the possibilities.
Excite
Excite the senses.
A garden sculpture and office all-in-one, X CUBED seeks to redefine the notion of what an office should be. Integrating "green" technologies including solar PV panels, natural lighting and shading, and thermal massing, X CUBED reexamines the typical cubicle and relocates it to your backyard. X CUBED provides a healthy, relaxing, escape from the typical work environment.