Workshop and Storage Combo
by DaveG
(Hertfordshire)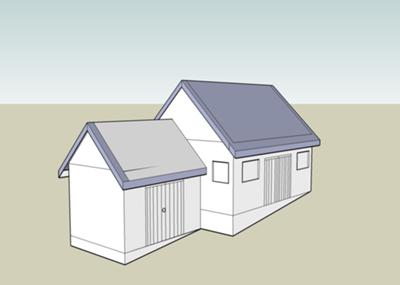 Shed idea 1 (drawn with Google SketchUp)
This is actually two sheds in one.


The idea is that the smaller shed is for storage of garden equipment and garden furniture etc. The larger is to be primarily a workshop. No specific use but there are always plenty of things that need doing where you need a workbench and its in the dry!
The smaller shed is approx 8'x10' and the larger is 12'x16' (I'm old enough to think in imperial although schooled with metric).
The sheds need to be built on two levels due to sloping of the garden, but these would be built at the same time with the back wall in line.
Nothing romantic - but very practical - and a nice place to hide out and tinker.
Return from Workshop and Storage Combo to the Shed Competition page