Woodshed
by Tim Brummett
(Champaign, IL)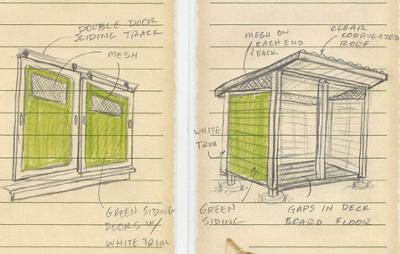 I want to build a woodshed that will compliment the Classic garden/storage shed I posted earlier so this will also have same paint scheme of green siding with white trim, but less formal without the keystone pieces in the trim.


Since it is for firewood storage it will need to allow for proper airflow. I am hoping that putting mesh around the top of the walls as well as making the floor out of synthetic deck boards with ample gaps between them will allow sufficient airflow. I appreciate any comments as I have no idea how much airflow is needed to keep the wood from rotting.
Since we live in a snowy area I would like to add double sliding doors that would keep the drifts off the wood while allowing access to the entire width of the shed. They would also have mesh screens near the top for airflow.
The roof will be translucent corrugated roof panels for daytime lighting.
I am not exactly sure how big I want to make it but I am thinking something in the neighborhood of 8'-0 deep X 16'-0 long on open side and 7'-0 tall at the door slanting back to ~6'-0 or less at the back.
Return from Woodshed to the Shed Competition page