Urban Rancher Shed
by Elroy Mann
(Los Angeles, CA)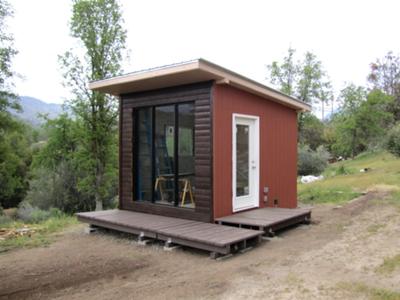 The Urban Rancher Shed nears completion
The Urban Rancher is a striking, cost effective, comfortable, energy efficient building to be used as a guest room, cabana, office or studio space.


It is built on a 10'x12' footprint to avoid needing a permit in the USA. The porch decking is NOT attached to either the ground or the building, exempting this additional space from the overall legal footprint as well as maximizing the interior space within a 120 square foot limit.
The porch decking sits on concrete blocks and is built in 3 modular segments to allow the owner to turn it over to re-seal and re-paint the wood when needed. This will extend the life of the porch by many years. The deck segments are heavy enough to remain safe and stable when in use and due to a 3 inch perimeter gap, are not legally considered part of the 120 square foot maximum allowed to avoid permitting.
A large "wall of glass" window and single lite glass door allow an open, airy feeling. A sliding window located on the opposite wall from the door allows a cross brezze when needed. A 30" overhang is strategically placed to shade the interior from the sun during the hottest part of the day.
It is built using common stick building methods and materials with an insulated floor, walls and ceiling. A galvalume roof over radiant barrier OSB sheathing keep the interior warm in winter and cool in summer. SmartSide paneling is used next to the front wall of shiplap spruce planks. This keeps the siding costs low while maximizing use of the higher-end wood slats.
The vaulted ceiling (along with the large windows) helps the interior feel much larger than it is and makes it easy to spend long stretches of time indoors without feeling claustrophobic.
A 120V electric and a land-line telephone inlet are located at the entrance, again to avoid a permit issue with "attached utilities".
This shed has been built in the mountains near Los Angeles and is in the process of interior finishing. It is comfortable, well-insulated, open and airy. My design and construction blog is located at
http://urbanrancher.wordpress.com/