Treepod
by Werryson Wijaya
(Jakarta, Indonesia)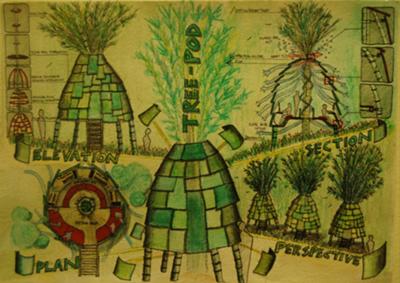 The treepod
The form of treepod is inspired by bamboo shoot-a young bamboo sprout that appears on the base of bamboo trees.


The structure of treepod is a hybrid between traditional bamboo structure combined with the structure of dome tent attached to a living tree as the main structure.
The chosen artificial structure type is considered fit with the function of shed as a semi-permanent structure that can be built and folded easily when needed. Bamboo is chosen because by using bamboo, we can save the forest by reducing wood usage, thus making treepod a more environmental friendly shed.
The covering of treepod is made of overlapping pieces of nylon flaps assembled all over the main structure with several openings to allow cross ventilation. The openings can be closed during the winter to keep the insides of treepod warm.