Tranquil Garden Shed
by Jeff
(Sacramento, Ca)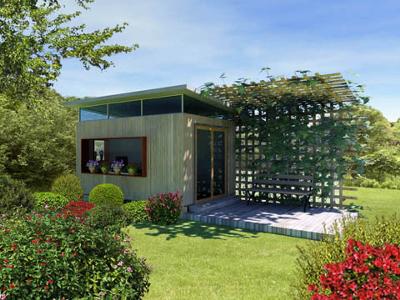 The concept was to create a simple, well lit, peaceful space for working.


The shed's wood siding helps it blend into the flourishing garden that it is engulfed in. The glass sliding doors open up to a wood deck that's shaded by a canopy of ivy wrapped trellis.
Clerestory windows on top, along with a very large framed window behind the desk, provide an abundant amount of daylight as well as views of the beautiful garden as one works. The window features an exaggerated window sill that provides space for small flower pots to be placed directly in the worker's line of sight.
The view of colorful flowers, a lovely garden, and a deck sitting bench shaded by ivy leaves all culminate in a much more relaxing day at the office.