The Studio Shed - (A response to the fallen economy worldwide and current housing market)
by Jack Hassall
(Croydon, London, England)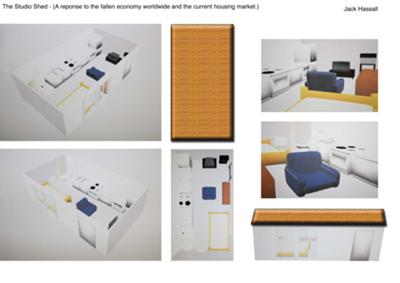 Interior and exterior of studio shed
With the state of the worldwide economy, there are many people worldwide who are having to down size their homes, also for first time buyers looking for somewhere to get on the property ladder. This shed is also the perfect way for people who own sheds to make money as they could rent or even sell their own sheds fully furnished as a place for people to live.


I feel that this idea would be a great way to help the economy to start bouncing back. For years the world has had small properties available such as studio flats, studio apartments so it makes perfect sense that people refurbish their sheds and give a new angle to the market.
Sheds into homes - people letting their sheds out as homes for steady income.
People selling their sheds for a decent sum of money.
Shed interior - Smallest sized domestic appliances and furniture, there should be the most amount of necessities as physically and legally possible.
Shed prices - Sheds can come in many shapes and size, some very sizable and others not so large, so I believe the price will purely depend on the size and space available in the shed. Pricing could possibly be done as a relation to how similar sized apartments and flats are priced.