The Solar (powered) Shed
by Ryan Trullinger
(Gothenburg, NE USA)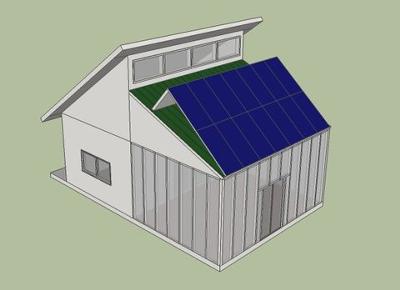 The Solar (powered) Shed
I designed this shed based on Eco-Friendly techniques. Some of the materials are recyclable, for example the aluminum framework for the greenhouse portion, which consists of 2X4" rectangular tube for the "studs" which are on 24" centers instead of 16" centers(there by reducing material costs). The only exception is I used 4X4" aluminum tubing for the outside corners.


The structure is placed on a concrete slab that is 8" thick, this increases the thermal mass for passive solar heating. The slab is covered with quarry tile (also known for its passive solar heating storage characteristics.
The north section (the dark side)is made up of standard 7" stud walls with the studs again on 24" centers.
All the windows and doors in the north section are high efficiency composite material design.
Clerestory windows in the upper south facing wall provide additional natural light, and can be opened for ventilation.
Lastly the structure should have ample power for lighting ,ventilation, and overall power needs. The PV array on the south (greenhouse) area roof is capable of producing 2800 watts at 24 volts dc.
The intended use for this shed is work and play, as a design studio/home office, and of course a greenhouse.