The Serender Shed
by H. Baran YILDIRIM
(Lisbon,Portugal)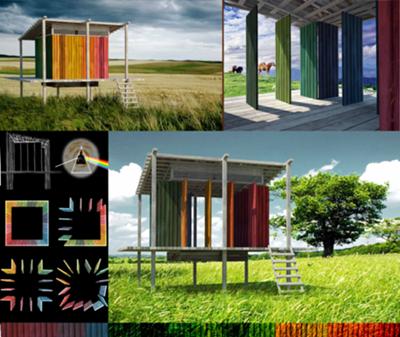 Serender Shed
The serender shed is a piece of next to nature primitive formation that has been lifted 2 meters above the ground to make it more breezy and be isolated on this light pillars to provide lack of footprint on the earth. It camouflages its disposition with the colors of rainbow.The main thought of mine is to achieve diversity of human being with the colors of rainbow that we can define the visual space of our perceptions on this spectrum of prisma. Therefore,the concept, it is pointed through into reflection on prisma. Light is connected with the origin of my space and symbolizes itself in every point,light as the beginning of reality,it is a symbol of renewal and source of life is presented.


As the sun moves through its daily arc,some places on this shed may mostly remain in the shade,while other parts may be in the sun all day. So the space is enclosed by 16 sprayed dyed wing panels in the coherence of rainbow spectrum which are optional flipping on their axis 360 degrees according to decision of usage. It can be closed altogether to get some privacy or at nights to sleep full of tranquil,etc. At the same time it can be opened totally for reaching more scenes and freshness of nature or you can release it as a kinetic,improvised shed which means that might be oriented by natural influences and you might just want to avoid against to impact of strong and cold wind and/or obtain some sublime sunlights in your recumbency
or deep meditation due to your expectations. You can organize your own position as long as you can be functional, rational or creative, different orientations might support different beings and compositions to make space totally versatile within its possibilities. Space can gain many thoughts in terms of thinking spirit of architectural and is able to handle providing eco-consicious of human being.
Changes in lighting conditions indicate the course of time,per day and per season. Atmosferic conditions determine the colour and brightness of light,as seen on your view sometimes it can be seem as golden mists and tinted steams or haze up to your perception.Light always creates space,patterns and atmospheres.The manipulation of natural light,both within internal of panels and openings are one of the almighty meaning for me, to create unsteady ambiance and variations.Poetic and pastoral impressions and expressions might be visible ?in the genius of the place?.
One of my best scenario and aim is to make my shed house as a landmark in the middle of a vast landscape. It might be a highly visible element in the landscape with its stirring harmony of colors that is perfectly remembered as a mental image with vivid presence of disposition.It might be a sign of welcome or unexpected experience with its unknown and unpredictable invitation. Because human perception and the experience of spaces involve the senses such as feeling, hearing, seeing and balancing. People are helped to recognise scenes and places by a wide range of memories as fear, delight, comfort, take a rest or other experiences.